VISIT BY AUSTRALIAN MINISTER FOR COMMUNICATIONS HIGHLIGHTS THE DEEP TIES BETWEEN OUR COUNTRIES
On the 23rd of August Australian Minister for Communications, the Hon Michelle Rowland MP, arrived in Solomon Islands for a four-day visit.
She is the third Australian Minister to visit Solomon Islands since June 2023, reflecting the deep and enduring ties between our countries.
Minister Rowland began by meeting with Minister for Communicatons and Aviation the Hon Peter Shanel Agovaka to discuss shared challenges in telecommunications, including in infrastructure, cybercrime, online safety and effective Information and Communications Technology (ICT) service delivery, particularly in remote locations.
Minister Shanel and Minister Rowland also discussed broader ICT priorities within the Pacific region in the lead up to the Pacific ICT Ministers Summit, to be held on 28 August in Port Moresby, Papua New Guinea. Both will attend the summit with the overarching theme 'Smart Pacific, One Voice' with an added emphasis on a 'Connected Pacific – Enabling Aspirations through ICT'.
Minister Rowland welcomed the opportunity to meet with telecommunications sector leaders, sharing experiences and discussing the critical role the telecommunications sector plays in supporting economic growth, job creation and connecting communities.
On the 24 of August Minister Rowland toured the landing site of the Australian-funded Coral Sea Cable which brought higher speed, higher capacity telecommunications connectivity to Solomon Islands in early 2020.
"The Coral Sea Cable and the Solomon Islands Domestic Network enable people to connect online with friends and family, and broadens digital education, trade and opportunities for jobs, and people-to-people links," said Minister Rowland.
Minister Rowland and Minister Shanel met again for a ceremony during which Minister Rowland handed over equipment donated under Australia's Pacific Postal Development Partnership initiative, including electric delivery vehicles, mail sorting machines, computers and uniforms. With the growth in parcel deliveries from Solomon Islanders living in Australia, the equipment will help Solomon Post to deliver packages more efficiently.
Minister Rowland had a warm bilateral meeting with the Hon Rexon Ramofafia, Solomon Islands' Minister for National Planning and Development Coordination. She reaffirmed Australia's continued support for Solomon Islands' priorities in the communications and connectivity sector.
"Digital inclusion and e-commerce are key opportunities for Solomon Islands to support economic growth and jobs creation, and Australia is pleased to support the development of Solomon Islands' digital economy initiatives", Minister Rowland said.
Delivering a keynote address at Solomon Islands National University, Minister Rowland spoke about the power of communication to drive national development.
During a question-and-answer session with students after her address, the Minister heard firsthand about the digital opportunities and challenges affecting the students
and their studies.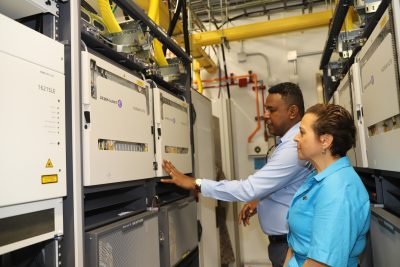 Lastly, Minister Rowland visited Solomon Islands Broadcasting Corporation (SIBC), meeting with CEO Johnson Honimae and members of staff. "Australia recognises the importance of a resilient, independent and professional media sector, and supports these objectives in Solomon Islands and the Pacific through PACMAS (Pacific Media Assistance Scheme)," said Minster Rowland.
Minister Rowland announced Australia's support for the purchase of a new power generator for SIBC's FM tower at Rove, ensuring ongoing broadcasting of SIBC during power blackouts.
"As the national broadcaster, SIBC plays a critical role in ensuring transmission of news and weather, education services, and entertainment to all provinces," said Minister Rowland.
The new generator is expected to be installed by end-September.
Ends//
-Australia's High Commissioner office Honiara Press Release