CONSTITUENT ACCUSED MP FOR MISUSING FUNDS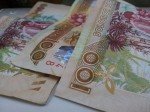 A concerned constituent of Kia, Hagrano, Havulei Constituency in Isabel Province Stephen Billy has accused their Member of Parliament of misusing 3-hundred thousand dollars of the constituency's tourism funds.
Speaking to SIBC News yesterday, Mr Billy said the money was distributed to Selwyn Riumana's agents and supporters only.
He said this is wrong and that the funds should have been handed over in Kia or Baolo villages in front of village chiefs, leaders and people.
Mr Billy said the Ministry of Tourism and Culture should investigate the matter to ensure the money is being used to implement the constituency's tourism project.