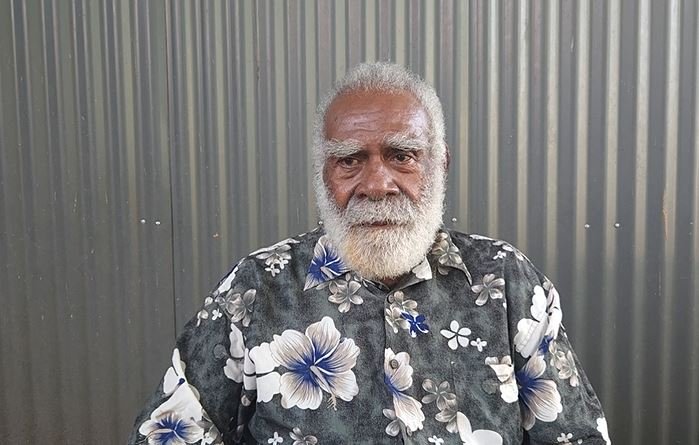 Famous Radio Commentator 'Bart' Congratulates Solomon Islands for hosting Pacific Games; he says he misses doing live commentaries in this year's games
The famous and iconic Solomon Islands veteran broadcaster and commentator, Bartholomew Basia widely known as 'Bart' wishes Team Solomon all the best as the 17th Pacific Games kicks off in Honiara.
Bart, who had been to 6 out of 9 Pacific Games to provide live radio commentaries also called for respect among the participating athletes.
While the majority of Solomon Islanders eagerly anticipated his live commentary in this year's Pacific Games, he preferred to stay at home and listen to the new young ones interested in and willing to commentate on any games in the future.
He pointed out that because of his experience over the past years where other countries in the Pacific hosted the games, the home for games facilities is now in the heart of Honiara.
He believes that Solomon Islands has now reached the standard to host significant games, witnessing the biggest event in history.
Sponsored

Expressing that this year's games will be his last for commentary, Bart prefers to stay at home and listen to the new young ones interested in and willing to commentate on any games in the future.
He said he surely missed doing live commentaries in this year's game but encouraged everyone to come out and support the historic 2023 Pacific Games.
After serving 37 years with the national broadcaster, Solomon Island Broadcasting Corporation (SIBC), Bart, now in his early 60s, initiated his career as a radio announcer with the former Solomon Islands Broadcasting Service in 1978 when Solomon gained independence from British rule.
From high school to SIBC, Bart's journey to radio is unique, and his radio voice is most familiar to many keen listeners of Radio Happy Isles or SIBC in the country.
Throughout his career, Bart was famous for radio live coverage commentaries on major events of importance in the country, with a significant focus on sports.
SIBC's radio announcer, George Hoatamauri Jnr, with the SIBC team, interviewed Bart at his residence at Rove to hear from him about his excitement about the Pacific Games in Honiara.
Reflecting on his journey as a commentator, providing live radio commentaries on Pacific mini-games, Commonwealth, and football games, Bart shared his story on how he started his career as a commentator.
He mentioned that after Solomon Islands gained independence, his interest in commentary grew as there was no one interested in doing it.
"Not until 1980 was I recruited as a permanent employee for SIBC, and my involvement in the Pacific Games was because I worked for SIBC.
"So I started my commentary on that day. The reason for me to be involved in live broadcasting or commentary depends on sponsors who sponsor the broadcast of Rugby and Soccer."
"In 1978, I was doing my first commentary, working part-time with SIBC until 1980 when he was recruited as a permanent staff member of SIBC."
"My involvement in the Pacific game was because I was with SIBC, and no one was interested in doing sports during that time, so I got involved."
He mentioned that in 1981, the South Pacific Mini Games were held in Honiara, and it was the first edition of the South Pacific Mini Games.
15 Pacific nations participated in the games, including Solomon Islands as the host. 
"When the games were hosted here, I was doing my morning show on the radio, reporting on sports news, and that's when my interest built."
"Out of 9 Pacific games, I only covered 6 Pacific games where Solomon Islands was involved and participated in games."
In 1983, he was in New Zealand, and in 1987, Solomon Islands boycotted the South Pacific Games. Still, he covered 9 Pacific mini-games from 1981 to 2013, missing three games due to sponsorship reasons.
In 1982, he also covered the Commonwealth Games in Brisbane, Australia, and in 1990 in Auckland, New Zealand.
He recalled attending one Oceania Championship where one of the representatives of Solomon Islanders, Joseph Onika, grabbed a medal record for Men's athletics in Fiji.
When asked about his expectations for this year's 2023 Pacific Games, he expressed optimism about Solomon Islands athletes performing well.
He encouraged all players to do their best, emphasizing the country's efforts to bring the games to its shores.
Despite two unsuccessful bids to host the Pacific Games due to a lack of proper sporting facilities, Bart thanked Prime Minister Manasseh Sogavare for winning the bid to host the 2023 Pacific Games.
Mr. Basia comes from the Reef Islands at Dipe Village in Temotu Province.
ENDS///
BY Alfred Eva Pagepitu/ George Hoatamauri Jnr