Honiara pays respects to fallen ANZACs
Hundreds of Australians and New Zealanders – and many local Solomon Islanders – turned out in central Honiara early this morning for a dawn service to mark ANZAC Day.
The beautiful ceremony – a tradition on ANZAC Day, April 25 – saw Solomon Islands Prime Minister Manasseh Sogavare and Governor General Frank Kabui as guests of honour at the ceremony near the Central Police Station this morning, which included the "Last Post" and the traditional laying of wreaths.
ANZAC Day is held this day every year – the day Australian and New Zealand forces landed in Gallipoli, Turkey, in 1915 – and is now an annual day of remembrance for fallen soldiers.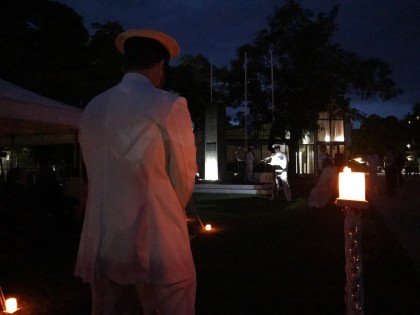 ANZAC Day is also a day to remember the sacrifices of all soldiers across all conflicts. Honiara, and Iron Bottom Sound, holds a special place in the ANZAC tradition as 82 Australians lost their lives after HMAS Canberra was sunk during the Battle of Savo Island in 1942.
The significance of this was highlighted by Australian High Commissioner Rod Brazier who spoke during the ceremony. Mr Brazier also highlighted, more recently, the sacrifices of the RAMSI force which is set to leave the Solomon Islands at the end of June.