Logging hits Kakabona beach, but landowners say it is 'for our future'
Landowners of the popular Kakabona beach say logging at the waterfront has been introduced to help pay for future plans for a recreational or park facility near the beach.
SIBC Online spoke with the landowners – known as the Kakau Roha tribe – at the beach this morning after reports of logging trucks entering the beach area and knocking down trees emerged yesterday.
A huge area formerly full of trees and vegetation has been cleared right next to the beach to build a log pool (an area used to store logs before they are shipped off to other countries).
The landowners, including former North West Guadalcanal MP Siriako Usa, said that they had allowed the loggers in to clear the land to help them "build something for our future".
Though Mr Usa declined to be recorded for an interview, he told SIBC it was a wholly collective decision by all landowners. The money from logging would allow them to build housing for future generations and after the logging company finished – which he predicted would be in two years – they would "re-vegetate" the area and build a recreation park, he said.
The tribe said there had been no support from the Government or tourism authorities to help them build a planned recreation area in the vicinity – a plan they have been trying to get up for almost a decade. He said they had been forced into the action in order to secure their future.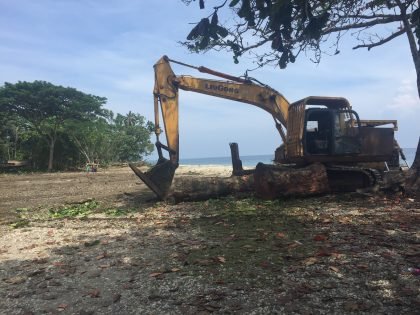 The area is a popular swimming destination for Honiara residents – and is used by the local triathlon club – as it one of the closets beaches to the main city centre.
Posts emerged on social media yesterday of the logging operation moving in, however incorrect information was spread about the intentions of the landowners.
Mr Usa said he was mindful of the environmental degradation of the area, but it was the landowners choice to take this action and people critisising the decision should bite their tongue.