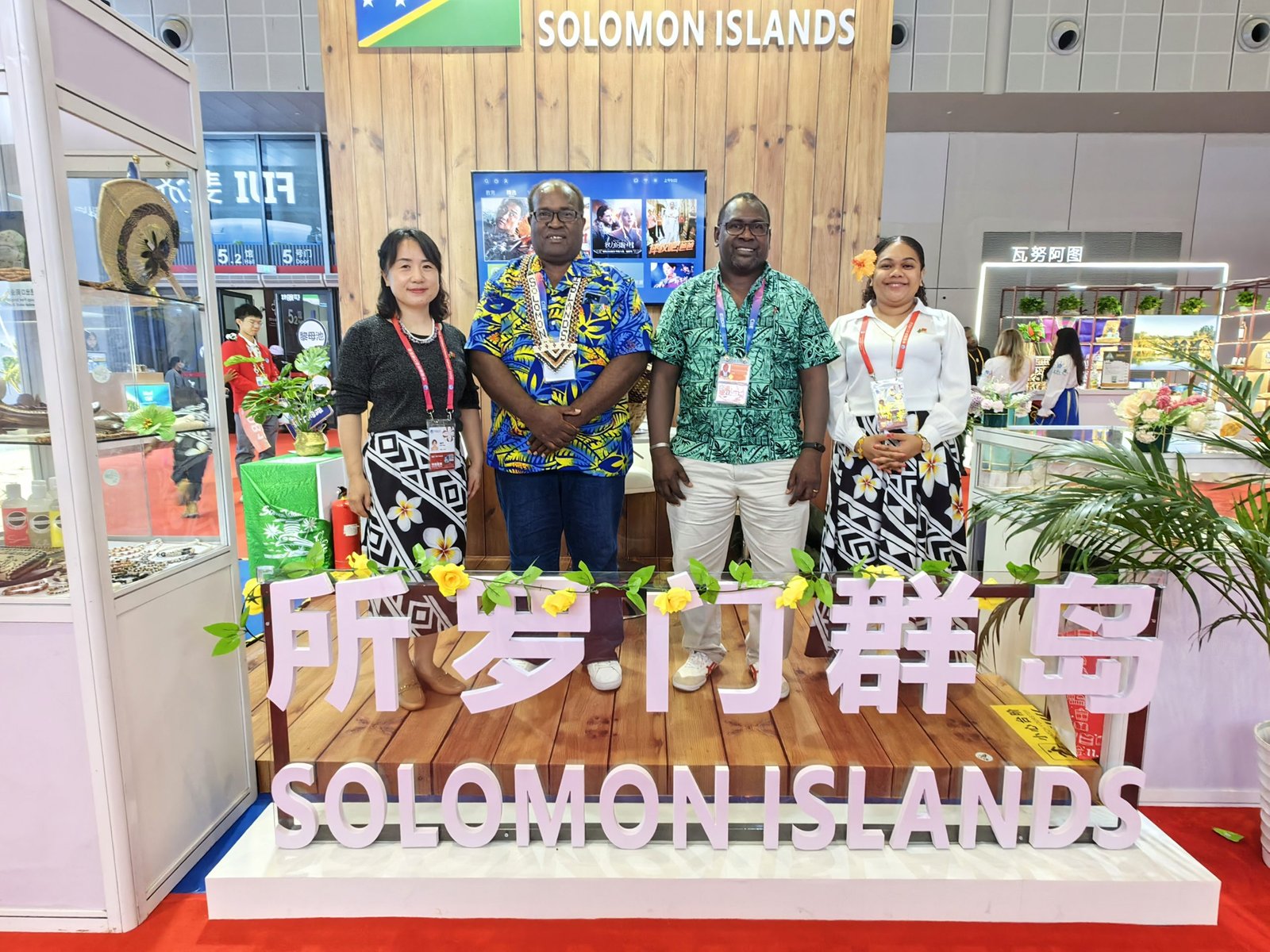 Mesepitu: We will return to China International Import Expo (CIIE) 2024 on a bigger scale
Permanent Secretary of the Ministry of Commerce, Industries, Labour and Immigration (MCILI), Mr. Riley Mesepitu said Solomon Islands will return to the China International Import Expo (CIIE) 2024 at a bigger scale.
Solomon Islands was represented at the 6th China International Import Expo (CIIE) 2023, in Shanghai, from 5-10 November 2023.
The delegation to the Expo was led by Mr Mesepitu and Ms. Theresia Shanel, Charge De Affairs of the Solomon Islands Embassy in China, amongst high level leaders from all over the world.
Mr. Mesepitu stated that 2023 is a learning year for Solomon Islands.
He added that Solomon Islands will participate at a bigger scale in 2024, adding that the Chinese market is "a huge market which we are looking forward to trade more with".
Sponsored

The week-long trade fair in which countries and companies often strike deals is an event that saw Solomon Islands showcasing products in its booth for the first time since the Expo started in 2018.
The Solomon Islands products that were exhibited during the Expo were mainly Solomon tuna, Kokonut Pacific products, SolAgro products, seaweed and handicrafts.
Solomon Islands was among 69 countries and three international organizations that showcased themselves at the Country Exhibition area, in a bid to access growth opportunities in a huge market like China.
According to the CIIE organizers reports, this year's expo had captivated a record of 289 Global Fortune 500 companies and industry leaders, with over 3,400 exhibitors and 394,000 professional visitors registered for the event. The numbers are growing each year.
For this year's product categories, there were six major categories exhibited at the CIIE: 1) Food and agricultural products, 2) Automobile, 3) Intelligent industry and information technology, 4) Consumer goods, 5) Medical equipment and healthcare products, and 6) Trade in services.
During the Expo, the Solomon Islands delegation members had the opportunity to visit different product booths and were marvelled at the various products displayed, especially in the intelligent industry and information technology exhibition hall.
The Charge d'Affaires to China Ms. Shanel expressed that China has great potentials to becoming the leading global superpower in Artificial Intelligence (AI) innovation. China had made significant contributions to AI globally.
She added that, "money and resources are available and the Chinese people are the hardest working people she has ever seen and known". The Chinese economy is booming because of its people and leadership.
In addition to providing an avenue for business engagements and exposure to the Chinese market, the CIIE has also been a platform for Chinese officials to make important policy announcements and information related to foreign trade and investment.
During this Expo, China had released several official documents and measures to improve the business environment for foreign businesses and investors, including measures to further expand market access in six (6) Foreign-Trade Zones FTZs. In relation to this, Mr. Cornelius Donga, the Director of Marketing and Exports Promotion of the Ministry of Commerce expressed that "it would be great for Solomon Islands to engage the private sectors to participate in the 2024 CIIE to gather first-hand information of the Chinese market and its opportunities".
The Expo ended with great success as the Solomon Islands booth attracted over thousands of Chinese people who had stopped by to enquire about the exhibited products and the country itself. The most enquired questions were on the tourism industry and fisheries sector. The delegation has hopes that Solomon Islands will definitely participate in a bigger scale in the 2024 CIIE. –ENDS//