PM assured, Effective High Quality Health Service is the Peace Ark's Business
Prime Minister Hon. Manasseh Sogavare MP today (Sunday 20th August)  accorded an official visit of the more than 14,000 metric- tonne Peace Ark floating hospital currently providing good-will medical assistance to the people of Solomon Islands.
Receiving the honourable Prime Minister and Madam Emmy Sogavare on board was the Commander of Mission Harmony 2023, Rear Admiral Zhao Guangqing.
"Welcome on board Peace Ark. This is the first of many more visits to spread friendliness and giving care to the people of Solomon Islands. It is an honour for all officers on board to have you visit us today".
As expressed by Rear Admiral Zhao, today's visit was a testimony of a strong SI-PRC bond adding, Peace Ark hopes to fulfil the hospitality expected by Solomon Islanders.
"We will be content seeing our sick patients recover. That is our goal. Our medical practitioners on board are among the best in the world."
The Prime Minister was further assured, effective high quality service is the Peace Ark's business.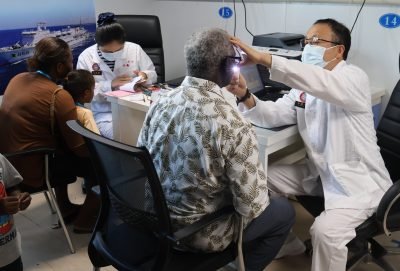 The Hospital ship's humanitarian diagnosis and treatment service signifies the Chinese people's love of peace and respect for the people of Solomon Islands, Rear Admiral Zhao punctuated.
In his brief response, Prime Minister Sogavare sends his government's appreciation to the government and people of China for the good will visit.
He further articulated, the ship's name 'Peace' is what the world needs today. The good-will medical visit is a sure way of achieving peace. Biblically, it was an 'Ark' that God used to save the world. Thus, the boat save lives and promotes borderless peace.
Benevolence is never bound by territory, he reiterated.
Prime Minister Sogavare also visited the multiple operating rooms and nursing stations on board.
The Peace Ark hospital ship also hosted an official lunch in honour of the Prime Minister and Madam Sogavare
The floating hospital is equipped with cutting-edge medical technologies. More than One hundred medical doctors and professionals in neurology, gastroenterology, physiotherapy, traditional Chinese medicine, infectious diseases, reconstructive surgery and burns are on board.
Commissioned in 2008, Peace Ark has provided medical services to roughly 250,000 people from 43 countries to date.
Ends//
OPMC Press Release