Bonfire Festival to Set the Weekend Ablaze with Solomon Islands and Fiji Music Sensations
Honiara is gearing up for a musical extravaganza as the highly anticipated Bonfire Festival takes center stage at the Pacific Crown Hotel this Saturday night. 
Sponsored by Solomon Telekom, this inaugural event is set to ignite the stage with the finest talents from the Solomon Islands and Fiji.
The festival's lineup features two of the Solomon Islands' most acclaimed music sensations, Jahboy and Jaro Local, alongside the Fijian big names, Ratu and Billy T of VT1S. 
Some Solomon Islands local Music Artists, the likes of, Bibao, Young Davie, Elexter Jr, Jammin, Lingus, Ramo, Lonna and Legality to name a few, are also expected to perform during the festival.
In a Press Conference today, Jaro Local and Jah Boy said they are excited to perform in their home country and are looking forward to hosting many more of such events in the coming years.
Jaro Local said he has been to festivals as such regionally and now is the time to bring such festivals to Solomon Islands.
He revealed that he would showcase his latest single, 'Olobaut,' during his performance. Joining him, Jahboy pledged to deliver an exciting show, and stated that he is grateful for the opportunity to entertain his local fans.
Sean Hiele, the Marketing Manager of Solomon Telekom, told Journalist at the press conference that Bonfire festival is anticipated to be the hottest event to have happen this year in the country and commended Telekom's music partners both from the Solomon Islands and from Fiji for their support in boosting the drive for the event.
He announced that this festival would be an annual event supported by Solomon Telekom. 
Meanwhile, Ratu and Billy T of VT1S said coming to Solomon Islands is a dream come true for them and just being able to come and perform in the country is very special.
"It's time for Melanesia to come together and share the love for music. In our case, we are proud to share Fijian music."
"It's great to see some big names we used to listen to back at home, to be able to be in the same room and perform, that is very special," Ratu said.
Meanwhile, Alex Waimora, the man behind some of the successful entertainment arrangements at the Pacific Crown Hotel (PCH) said having hosted a few big events at the PCH and currently teaming up with Our Telekom and Bonfire Entertainment, that takes it to another level.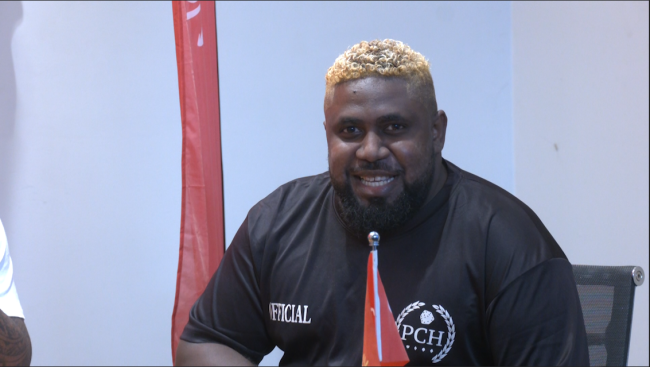 "Pacific Crown Hotel is proud to be the official venue for the Bonfire festival," Alex expressed.
Party goers are expected to come out in numbers as the Bonfire festival is set to go down come weekend on Saturday, May 27.
ENDS///
By Alex Dadamu