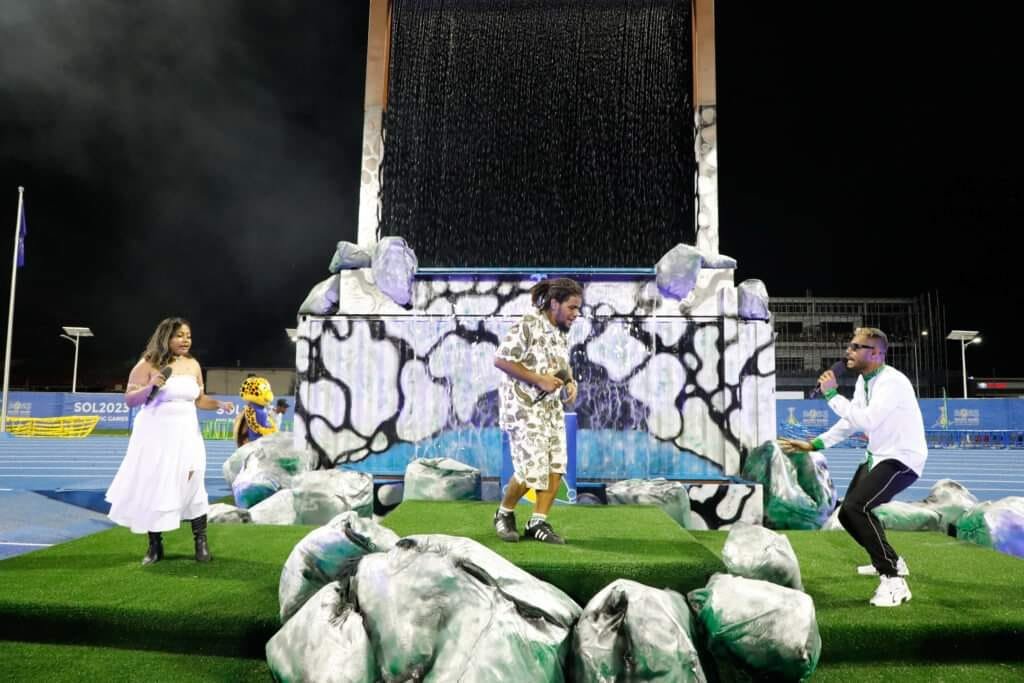 Jaro, Amy, and Khazin Mesmerizes Crowd with Enchanting Performance of 17th Pacific Games Theme Song
By Lynton A. Filia
A display of talent and harmony was showcased at the National Sports Stadium in Honiara as the trio Jaro Local, Amy Bauro, and Khazin delivered a breathtaking rendition of the theme song for the 17th Pacific Games at the opening ceremony yesterday. The trio took centre stage with their exceptional performance.
Their rendition of the theme song encapsulated the essence of the games, capturing the hearts of the audience present at the opening ceremony.
Their performance was met with roaring applause and cheers, reflecting the appreciation of the audience, for their performance.
Jeremy Saeni, also known as Jaro Local in an interview with SIBC prior to official opening said, "Sharing the stage, singing the national theme song alongside Amy and Kadi, is an
immense source of pride for me. I invite everyone to rally behind Team Solomon and extend that support to all the Pacific Islands teams competing here."
Sponsored

"Music and sports share an incredible bond; they bring people together. So, join us, savor the moments, and lend your enthusiastic support to our Pacific teams. Let's all come together and show up in force to celebrate this historic event. It's a time for us to embrace the challenges, revel in the celebrations, and unite in the spirit of the Pacific Games."
Emy, on the other hand, urges everyone to turn out in full force to support the games.
"Let's collectively celebrate this historic event — it's a time to embrace challenges, revel in
celebrations, and unite in the spirit of the Games."
Their collaboration on the theme song of the 17th Pacific Games showcased not only their musical talent but also their commitment to promoting the values of friendship, sportsmanship, and cultural heritage that lie at the heart of the games.
Jarol, Amy, and Kazin's performance positions as a testament to the power of music in uniting diverse communities and celebrating the shared identity of the Pacific nations. Their
captivating rendition left a lasting impression, setting the stage for an exciting fortnight of sporting excellence and cultural exchange.
As the 17th Pacific Games unfold, the echoes of their mesmerizing performance continue to resound, symbolizing the harmony and unity that define this grand celebration of athleticism and cultural diversity in the Pacific. –Ends//