Premier says no compensation was paid to the Bouganvilleans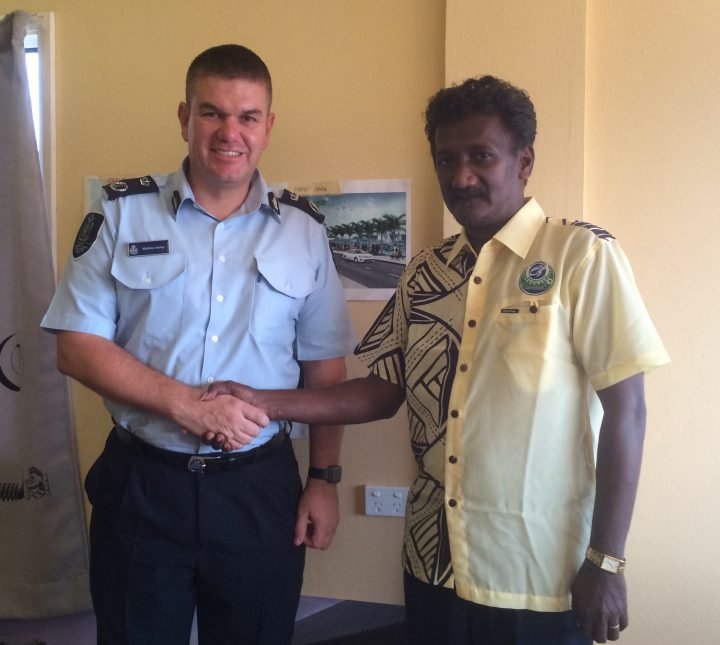 Police Commissioner Mathew Varley and Western Province Premier Wayne Maepio
The Western Provincial Premier Wayne Maepio has denied paying any compensation to the Bouganvilleans who turned themselves over to the Gizo police over the weekend.
Nine of the 29 Bouganvilleans who escaped police custody gave themselves up after successful talks between Shortland islands chiefs and the Premier.
However there were reports following this that Mr Maepio paid a large sum of money to the men.
In a joint media conference today with the Police Commissioner Mathew Varley, the Premier clarified that this is not true.
"I would like to say this very clearly to the public that the Government of Western Province did not pay any compensation to them when they go back. As you might have heard from the Police Commissioner, there was no foul play involved in the death of the young man concerned. Therefore we have no reason to pay any compensation," Mr Maepio said.
The premier however clarified,  his government prepared 50-thousand dollars as a repatriation package for the men.
"It was a gesture of kindness to help them. But we haven't spent any cent on them too, because the National Government met all their repatriation costs.
The public must stop spreading rumors about the compensation", he said.
                                                                                                        Gizo police welcoming Police Commissioner Mathew Varley this morning.
Meanwhile, Police Commissioner Mathew Varley arrived in Gizo this morning where the police welcomed him with a parade. Later he met with the Premier to discuss the issue of the Bouganvilleans.
He said he has information that the other twenty men have returned home through other means.
"An investigation is underway into how those men managed to leave Gizo and who it was that assisted them. That can amount to criminal offences, so we want to get to the bottom of what happened," he said.
Mr Varley commended the Gizo Police for their efforts.
"At all times, the main concern of the RSIPF was the people's security. Although the operation has now been brought to a safe conclusion, we will keep a high visibility presence here in Gizo for a few days yet," he said.
Mr Varley also conducted an awareness talk with the Gizo community to put to rest questions surrounding the death of a young man in Noro, that was at the heart of the issue.
The young man's death sparked rumors of foul play and brought the 29 Bougainvilleans into Solomon Islands to seek compensation for his death.
Commissioner Varley said "All of the investigations indicated that his death was a tragic accident.We are attempting to bring that case to a conclusion, but as we always do we will send the case file to the Director of Public Prosecutions before a decision is made."
By: Kikiva Tuni