Female swimmer reflects on journey to 17th Pacific Games
If you are going to cheer the Solomon Islands Swimming Team at the 17th Pacific Games in Honiara, remember the name, Wendy Charles.
In the heart of Mbaelelea, Malaita Province a spirited young athlete named Wendy Charles is breaking barriers and creating waves that inspire the entire Solomon Islands. Hailing from Rakao Village, in the Lau-Mbaelelea Constituency, Wendy's journey in swimming began as a mere 4-year-old, igniting a passion that has shaped her life and brought her national acclaim.
Wendy's love for swimming was sparked when she saw athletes practicing their strokes in the Lungga River in 2005, the year the sport was re-introduced to the Solomon Islands by Head Coach, Stance Sanga.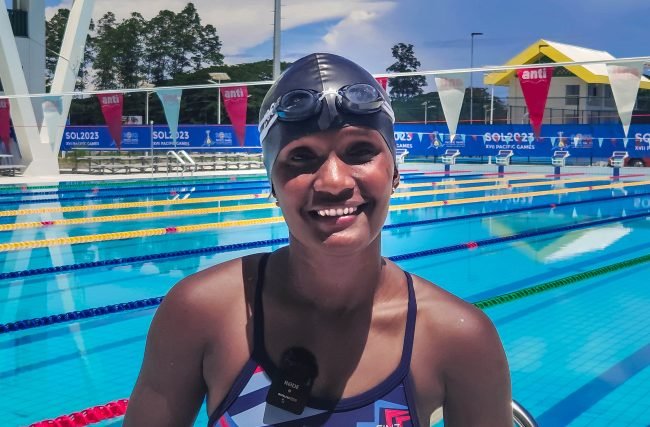 Despite living in Tamone community, near the Lungga River, Wendy's curiosity led her to approach the coach and expressed her earnest desire to join the team. From that day forth, her dedication to the sport has been unwavering, propelling her towards representing her nation on numerous international stages.
"Swimming is not just a sport for me; it's a profound love affair," Wendy exclaims with unreserved enthusiasm. This sentiment has kept her anchored to the waters throughout the years, even when facing hurdles.
Sponsored

For Wendy, the unwavering support and guidance from her coaches', as well as the unceasing encouragement from her family, have been the cornerstone of her journey.
Wendy's story is one of evolution. From training in the Lungga river to finally having access to world-class facilities provided by the Solomon Islands Government, thanks to China's support, her progression has been nothing short of remarkable. These new facilities have offered her a springboard to refine her skills, elevating her preparation for the grandest stage of the 17th Pacific Games.
Looking forward with eyes set on the upcoming Pacific Games, Wendy is steadfast in her goal – to showcase her best performance, not just for herself but for her country, her family, and her community of Tamone and in Mbaelelea.
As she braces for the competition in the 15-meter freestyle and breaststroke, Wendy's repertoire of experiences extends from the Commonwealth Games in England to the Oceania Championship in China, marking her as a seasoned contender on the international scene.
Yet, Wendy's ambition goes beyond personal success. She has a resonant plea to all Solomon Islanders – to rally behind their swimming team. "We are Team Solomons," she urges, inviting the nation to stand united in support.
Wendy Charles stands as a beacon of inspiration, a testament to perseverance, and a living embodiment of the possibilities that arise when dedication meets opportunity. Her journey is not just her story alone; it's a story that unites a nation and beckons all to believe in the power of dreams and the resilience of the human spirit. — ENDS//