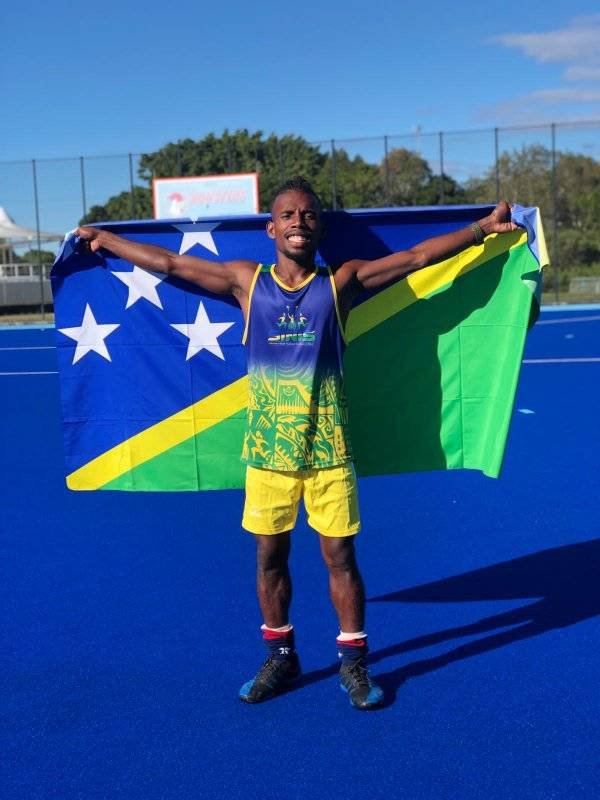 Zuna aims to win Gold for Solomon Islands as Hockey 5s return
"My aim in this 17th edition of the Pacific Games is to win Gold for Solomon Islands."
These are the words of Solomon Islands Men's Hockey 5s player, Nyrick Zuna.
Solomon Islands have played hockey since the 1970s. However, it was not until 2014 that hockey was established as a more vibrant and professional organisation.
Since 2014, Annual General Meetings (AGMs) have been held annually and the Solomon Islands Hockey Federation ratified an updated Constitution, became affiliated to the National Olympic Committee of Solomon Islands (NOCSI) and organised regular activities.
In a recent outing, the Solomon Islands national Hockey 5s men's squad secured fourth place in the Hockey 5s Oceania Cup 2023 held in Gold Coast, Australia. This marks their first-time participation in an international tournament of this nature, and their return to the country is being celebrated as a boost to their experience.
Sponsored

Zuna, 20, of Aefera Village, East Fataleka, Malaita Province was also part of the team that competed in the Hockey 5s Oceania Cup 2023.
The Pacific Games 2023 is set to be the second edition of the Pacific Games where hockey 5s will be featured on, after Port Moresby in 2015. It was Fiji who won both the men's and women's competitions.
Regular 11-a-side field hockey has enjoyed three competitions, with the first coming at Fiji 1979 in Suva when the host nation were victorious. Fiji triumphed again in the women's tournaments at Suva 2003 and Samoa 2007.
As Zuna and his team mates are preparing for the return of Hockey 5s in the Pacific Games 2023, the east Fataleka boy said the threat now is Fiji, being the current champions.
"While our Coach told us not to single out any threat in this competition, the only threat for myself is Fiji. We did beat them in the Hockey 5s Oceania Cup 2023, but they returned to beat us in the third-fourth play-off. So, I am looking for that revenge on home soil," Zuna said, with total confidence.
Meanwhile, since the Games will be hosted on home soil, the young lad calls for full support from all Solomon Islanders.
He said playing on home soil will be an advantage for the team, compared to their experience in Gold Coast, Australia.
"Please, come out in numbers to cheer for us. We need that moral support," Zuna said.
The Solomon Islands 2023 Hockey 5s tournaments are due to begin on November 28 before concluding on the final day, December 2. –ENDS//
By Ronald F. Toito'ona