38-year-old father charged for alleged rape of daughter
Police have arrested and charged a 38-year-old father for allegedly raping his biological daughter in east central Guadalcanal.
The man was charged with three counts of incest contrary to section 163(2) of the Penal Code (Amendment) (Sexual Offences) Act 2016.
Commissioner of the Royal Solomon Island Police Force (RSIPF), Mr Mostyn Mangau told reporters in a Press Conference today that the rape incident occurred in 2021 but the matter was reported to police on 12 August 2022.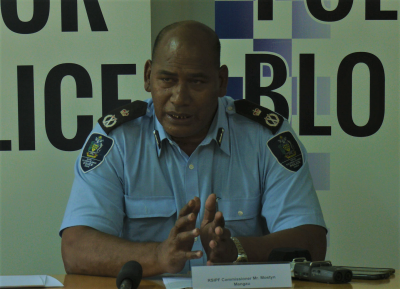 Police alleged the rape incident happened in different dates and times last year.
"After the police received the report, they went to the village of the suspect and arrested the suspect."
Mr Mangau says the suspect is currently remanded at Rove Correctional Facility as investigations are still ongoing. 
He says the suspect appears in Honiara Central Magistrates' Court today, 1 September 2022.
"As a father and a commissioner, this incident is emotional. With our strong and diverse culture, this act should not happen in our communities.
"Mothers and fathers need to stand together with other agencies to address this issue. Fathers should be the ones to provide guidance and safety over our children," Commissioner Mangau says. 
The Police Commissioner appeals to people of Central Guadalcanal to come forward with information that can assist Police in their investigation. 
When SIBC News asked about what measures have been taken by RSIPF to proactively address sexual offences, Commissioner Mangau says under the Crime Prevention Strategy, Community Policing Unit has been reaching out to rural communities and set up crime prevention committees on efforts to prevent the occurence of such crime.
"We are still rolling out this program, our community policing team have completed this work in some provinces and there are others that are yet to be completed.   
"Community engagement program is one of the priorities under the Crime Prevention Strategy – to discuss with communities and to get the message across the general public and work on ways to address increasing crime such as sexual offences," Mangau said. 
The Police Commissioner informed that a quarterly assessment of crime committed in the country will be released at the end of this month by the RSIPF Crime Statistics Office.
By Jared Koli