Acting Mines director confirms 1.7kg gold disguise: Opposition leader Wale urges Mines to cancel Win Win's licence
Acting Director of Mines in the Ministry of Mines, Energy and Rural Electrification (MMERE) Krista Tatapu further confirmed that the 1.7 kilogram gold which was intercepted by Solomon Islands Customs in 2019 was pure gold.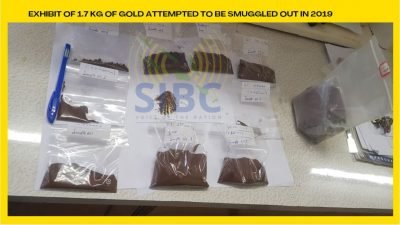 Ms Tatapu revealed this when she was questioned by Opposition Leader Matthew Wale when she appeared before the Public Accounts Committee (PAC) inquiry into the 2021 Supplementary Appropriation Bill 2021 last week.
"As you rightly stated, it was disguised. Mines officials believe they did the right thing by certifying the samples to be exported because it was presented as soil/rock sediments. 
"But when Customs intercepted it, they brought it back to us, tested it in the GeoChem lab, and it was verified that it was actually pure gold. So customs withheld it," Ms Tatapu said.  
Former Mines director Nicholas Biliki earlier alleged that the 1.7 kilogram gold was attempted to be smuggled out from the country by a Winwin Investment mining Ltd. 
The 1.7 kilogram gold was later released by Customs back to Winwin. Winwin officials have told SIBC News that they were penalised by Customs for $2000 for the return of the 1.7 KG gold samples.
Asked why Customs released it, the Acting director of Mines said Customs would be in the right position to answer that question. 
Solomon Islands Customs and Excise Division is yet to come out and explain the release of the 1.7 kilogram gold. 
When contacted, Customs Comptroller Mr. Jim Sutton referred the matter to the Ministry of Finance and Treasury Permanent Secretary or the Minister of Mines to comment on it.
"Heads of the Ministry of Finance and Treasury Departments are not permitted to talk to the media – I have forwarded your email to the Minister and Permanent Secretary for comment/response."
Permanent Secretary of Finance, McKinnie Dentana said the issue has been settled between the government and the miners.
"This is no longer an issue. It's been settled."
However, Ms Tatapu confirmed the Gold dealer, Primo Keni has been penalised and yet to accept his application for a gold dealer.
"I believe my predecessor went to some length to address the gold dealer and company, but unfortunately he didn't fully address it and left office," said the Acting director. 
Ms Tatapu said reports did not reach them that Winwin purchased gold from gold panners, but they (Mines Division) are aware that some panners did not have alluvial miners permit but they continue to sell gold.
"So we try to encourage people up there to have alluvial miners permit to allow them to pan gold and they can sell that to a licence gold dealer," she said. 
Ms Tatapu confirmed that selling gold to the company is not in the Mines Act. 
However, the Opposition leader Mathew Wale said this issue is very concerning, adding that Winwin's Mining licence should be cancelled.
"They should be tried and deported. If we continue to harbour them, our people, government and economy will be on the losing end," Wale said.
He called on the MMERE Permanent Secretary to issue a show cause notice to the company.
"…say in 30 days, the company should explain how they should continue to enjoy this licence. This is not a matter for the Mines board either, but it's a right decision to make," Wale urged.
He added, Winwin Mining Investment Ltd has absolutely shown its intention which is to defraud the country and landowners. This is what concerns me the most.
"This company cannot be trusted and now it must lead us to look more into its conduct and activities," Wale said. 
He alleged the MMERE Minister has some deals with Winwin company.
"I heard allegations that they supply gravel for the Mines Minister, and so therefore your minister put pressure on you not to go hard on Win Win," Wale told the Acting Mines director. 
Meanwhile, responding to Win Win top officials' response in today's Solomon Star front page article titled, "WHY NOW?" former Mines director Nicholas Biliki said Win Win must come out clear on two meetings called by Win Win to settle and release the 1.7 kg gold held by Customs. 
"Can more information or minutes be provided regarding the secret settlement meeting at the Sea King Restaurant?
"According to my understanding, it is Customs and Excise officials that intercepted this illegal consignment under their legislation. 
"I expected the Customs and Excise Division to take the appropriate action in law, and naturally, administratively or legally my division will be assisting any actions that will be taken against Win Win," Biliki said.
He said Win Win should also be asking itself why it paid the $2000 settlement and to whom. 
"What is this for? Under what legislation was this penalty determined? How can it deny smuggling gold this way when all the facts/evidence are against it?" he questioned.
Biliki said Win Win should not be fooling itself through these media releases without providing any hard facts. 
"I have all the hard facts and information here and will cooperate with any authority who will pursue these matters further," he said.
Biliki said Win Win's responses are a desperate attempt to clear its image of breaches of the relevant legislations of this country, especially the Mines and Minerals Act, and the conditions of its Mining Lease.
On the issue of the boat, Mr Biliki said Winwin directors agree to purchase the boat from him since Win Win has applied for a Prospecting Licence at Koloula, the weather coast of Guadalcanal. 
He said after visiting the boat (pictures provided) the two directors agreed to purchase the boat to be used as their transport to Koloula.
"The details in the receipts are very clear, they stated boat payments and not borrowed money. How long will Win Win provide such half truths to the public? I have already given Win Win 14 days notice on Monday last week to settle this matter, failure to do so will grant me full custody of the boat," Biliki said.
Win Win has confirmed an interview with SIBC to answer questions regarding this issue tomorrow.
by Jared Koli