Milestone achievement, Prime Minister Sogavare expresses joy at CT scan machine launch today
Prime Minister Manasseh Sogavavare today expressed his overwhelming joy on the country's first ever Computerized Tomography (CT) scan machine which was officially launched this morning after two years of hard work on the project.
PM Sogavare delivering his speech at the CT scan launch
"Today we are here to bear witness of the fruition of our hard work over the past two years. I only wish that our other flagship projects can be completed as quickly as this.
"That said, I am overjoyed that we finally have our own CT scan after some 40 years after independence. Now we do not need to send our patients overseas for such services," Prime Minister Sogavare expresses.
The national government through the Ministry of Health and Medical Services (MHMS) launched the CT Scan machine at the National Referral Hospital today.
The CT Scan project is fully funded by the government at a cost of $21M Solomon Dollars for the project implementation and purchase of equipment.
The procurement and set up of the CT Scan is one of the flagship policies of the government under the leadership of PM Sogavare.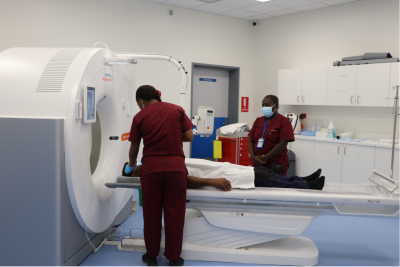 Patient entering the new CT scan during today's launching
Speaking during the launching, Prime Minister Manasseh Sogavare acknowledged the MHMS and the Ministry of Foreign Affairs and External Trade for liaising with the Australian Government in the successful completion of the CT Scan project.
He says the new equipment will be a boost in the country's health system as it will definitely assist people in their Health and well-being.
The Prime Minister also urges doctors and nurses to put the equipment to good use.
Mr Sogavare also thanked Siemens Company for supplying the equipment for the CT scan machine and for sending their technical team from Australia to install the machine.
Prior to its official launching today, the CT machine has already conducted 73 CT tests, which were performed for the examination of the brain, chest, inner ear, spine, heart, kidney and liver.
Head of Department Medical Imaging and Secretary of the CT Scan Steering Committee Dr Aaron Oritaimae also handed over compliance and completion certificates to the Prime Minister during the ceremony.
These are, practical completion certificates issued by Siemens for calibration of the scan machine and testing for radiation, and Power Safety Certificate issued by Solomon Power on 7th of April 2022.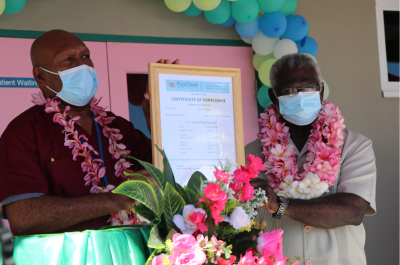 Dr Aaron Oritaimae hands over compliance and completion certificates to the Prime Minister during the ceremony
The Radiation Safety Compliance was also completed by a Radiation Scientist from Australia, and clearance was also completed on the 7 April 2022.
With the radiation compliance safety being passed through the Australian and New Zealand radiation safety standard for CT equipment, the use of the CT equipment is safe and will not cause any serious health risks that should be of concern.
The CT Scan building was designed by Kramer Ausenco and constructed by Hatanga Limited.
By Eliza Kukutu