Health Minister announces surge of COVID-19 cases
Solomon Islands has recorded a surge of COVID-19 cases in the capital Honiara this week.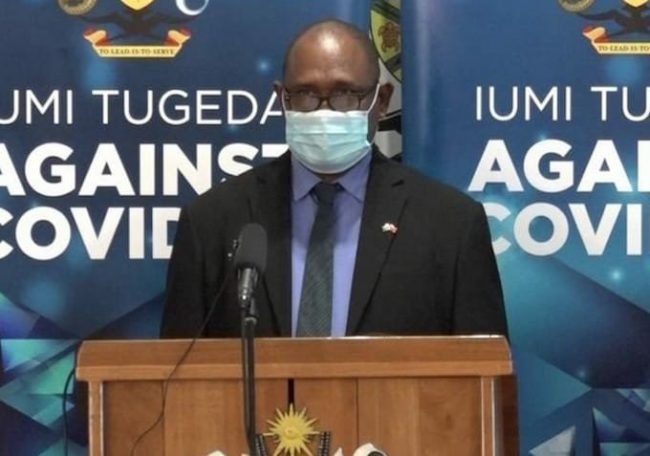 Delivering his daily Covid situation update tonight, Health Minister Dr Culwick Togamana says, on 13th April 2022 [Yesterday], testing results indicates an increase number of COVID-19 positive cases detected for both domestic arrivals from other provinces, and pre-departures as well as testing at our clinic.
"For the domestic arrival and pre-departure screening at the domestic wharf, a total of 391 RAT tests were done today of which 17 were positive and 374 were negative.
"Of the 17 positives, 6 were crews of MV Arnavon, another 6 includes 1 crew and 5 passengers of MV Nuatabu, 2 crews of MV Lezna, 2 passengers of MV Airi and 1 crew of MV Onogou," Minister Togamana says.
He says, for domestic arrivals at Henderson airport, a total of 20 RAT tests were done and 1 was positive, and for the pre-departure screening at Central Field Hospital (CFH), a total of 82 RAT tests were done and 2 were positive.
"This brings the total RAT tests done for domestic arrivals and pre-departures to 493 of which 20 were positive.
"Additionally, a 36-years-old, female, healthcare worker (HCW) who is a resident of Lord Howe Settlement at the Matiniko river bank had tested positive on RAT along with her three children, a 4-year-old, a 7-year-old and another 8-year-old when swabbed at the Mataniko Dental Clinic screening site.
"For further confirmation of RAT positive tests, additional samples were collected for PCR testing on all 6 members of the family. All four covid-19 positive cases at Lord Howe settlements are considered to be new infections," Dr Togamana adds.
He says, as part of the Ministry of health's response to the current increase, 6 Anavon crews are being quarantined at the vessel and tests are being conducted for other crew members.
The 6 positive cases on MV Nautabu are also being contacted for institutional quarantine in managed isolation spaces. The nurse and her three kids have been contacted and advised for home isolation.
Togamana says contact tracing at Mataniko clinic has been conducted and close contacts have been advised for quarantine. The clinic is being closed for now until further investigations.
"Swabbing teams are being mobilized for the swabbing the close contact for nurse and her three kids at Lord Howe settlement.
"ALL THE SYMPTOMATIC PEOPLE IN LORD HOWE SETLLEMENT WILL BE TESTED in the first instance."
Further, Togamana announced that face masks have been distributed at Lord Howe settlement and with risk communication teams being mobilized to conduct swift awareness to the community on the situation. NRH and all HCC clinics are now put on high alert mode for COVID-19.