'It's our war too' local historian urges Solomon Islanders to learn about WWII
A local leader of the Solomon Islands Scouts and Coastwatchers Trust has urged Solomon Islanders to learn about the country's role in WWII.
Annie Kwai, executive officer of the Scouts and Coastwatchers Trust, said Solomon Islanders needed to realise it was "our war too" and understand the critical role locals played in the conflict.
Speaking on the sidelines of the 75th Battle of Guadalcanal commemorative conference at SINU on Saturday – backed by the Trust – Ms Kwai said more needed to be done in schools for Solomon Islanders to learn.
"It's our responsibility to do this," she said. "It is getting better. With bloody Ridge becoming a national park hopeful that will help, and we have been going out schools. But we have to make sure the Solomon Islanders are recognised for their sacrifices – it was our war too."
The conference kicked off official commemorations of the 75th anniversary, with more events planned on Sunday and a number of big commemorations on the day the conflict started 75 years ago, August 7.
The conference saw a number of speakers from all over the world, including relatives of WWII veterans.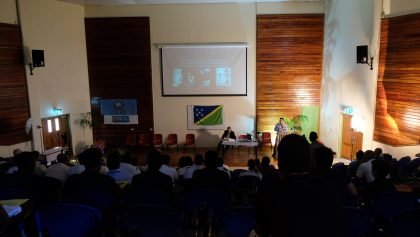 The Coastwatchers and Scouts, all of whom were Solomon Islanders, played a critical role in passing on information to the Allied forces during the war, as well as being involved in combat and other duties.
Ms Kwai said an embarrassing moment whilst she was studying in Fiji led to her interest in the Scouts and Coastwatchers Trust.
"I was studying in Fiji and a US student asked me about the Battle of Guadalcanal – I didn't know anything about it and felt pretty embarrassed. I don't want that to happen to anyone else."