National Financial Inclusion Strategy 3 launched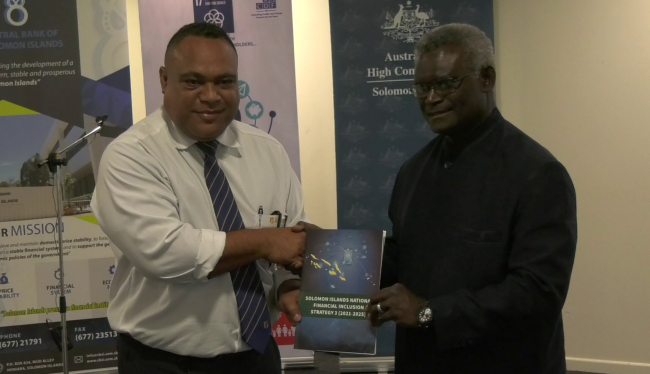 The National government and the Central Bank of Solomon Islands have launched the National Financial Inclusion Strategy 3 this morning.
The launching is in parallel with the announcement of the Inclusive Digital Economy Scorecards (IDES).
The announcement places Solomon Islands to become the first country in the Pacific to launch the IDES.
Key note speaker, Prime Minister Manasseh Sogavare said despite the increasing economic growth, financial inclusion is in lower pace, where the government is addressing.
"Therefore, it is imperative that as we pursue our development aspirations, our focus must be geared towards providing sufficient opportunities for all Solomon Islanders
and enabling them to participate meaningfully in the mainstream economy."
Meanwhile, Central Bank Governor Dr. Luke Forau said the National Financial Inclusion aims to improve the livelihood of all Solomon Islanders.
"National Financial Inclusion Strategy 3 which runs from 2021-2025 will provide a roadmap for the next five years on how we envisage progressing financial inclusion in the country."
"I'd like to encourage those involved especially the key stakeholders, for more concerted efforts towards implementation of key priority areas that will assist in addressing the gap to achieve an inclusive and sustainable economy."
The launching is made possible with support from stakeholders and development partners.
The National Finical Inclusion in the Solomon Islands Started back in 1985.
by Charley Piringi