Patrol Boat Taro will arrive in May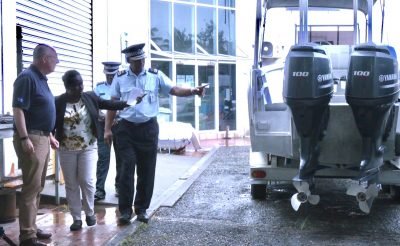 The Solomon Islands is expecting to receive a new Patrol boat from Australia, May this year.
The boat will be named Patrol Boat Taro.
This is to replace Patrol Boat Auki which is currently out of service.
Australian High Commissioner to the Solomon Islands made the assurance during a handing over of two fast craft vessels to the Royal Solomon Islands Police Force.
"Patrol Boat Auki which serves the Solomon Islands for years is going towards its last cycle and will be returning to Australia by March.
In May, we are expecting to receive another Patrol boat, it will be bigger, faster, and much more capable one."
Meanwhile, Mr. Strahan affirmed Australia's commitment to building the Patrol Boat outpost at the Western Border.
Permanent Secretary to the Ministry of Police, National Security and Correctional Services Karen Galokale said the Ministry is currently liaising with the Western Border Landowners to acquire land to build the outpost facility.
"The ministry is currently liaising with Western Border Landowners to acquire a plot of land to build on."
However, Mr. Strahan said Australia depends very much on the Solomon Islands Government to carry out land negotiations with landowners.
"Therefore, our partnership between the two countries is 'absolutely Rock-solid", Mr. Strahan said.
by Charley Piringi