SIEC Prepares for 2024 election
The Solomon Islands Electoral Commission has positioned itself to be election ready following the government's decision to defer next year's national general election to 2024.
Acting Chief Electoral Officer Fredrick Bosoboe said his office is reviewing its plans and working on the national general election budget following the passing of the Constitution (Amendment) Bill 2022.   
"Parliament should have dissolved on the 15 of May 2023 the passage of the bill see's the now proposed date for parliament to be dissolved moved to 21st of December 2023, this has a huge impact on our plans as now we are reviewing all our plans and preparations, once parliament dissolves in December, we will have four months before the elections can be held, we are looking to have the national elections earliest by 2024," Mr Bosoboe said.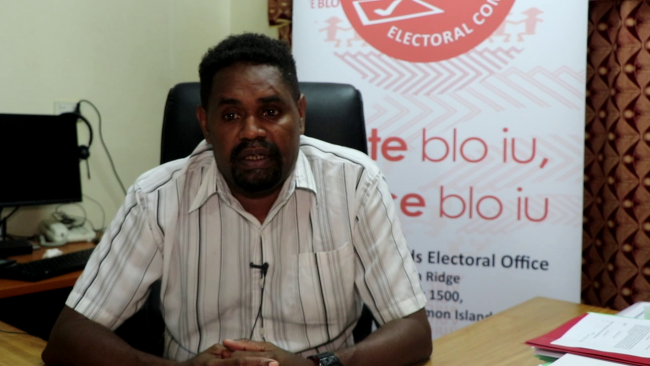 Work has now started on the commission's budget for next year, projections for the national election in 2024 and the country's voters' registration. 
Mr Bosoboe said they are planning to have voter registration starting next year. 
He said the commission is carrying out its reforms, one of which is the synchronization of the national general election and the provincial election. 
The government during its debate into the Constitution (Amendment) Bill 2022 said moving the national general election to 2024 would also allow the electoral office to carry out its reforms and have them implemented during the 2024 national elections. 
Mr Bosoboe said their taskforce is currently working on the reform in relation to the provincial acts. 
Consultation has been carried out by the electoral reform taskforce in seven provinces in the country, the team is also aware they are pushed for time in coming with the report and recommendations."   
The electoral commission hopes to finish all reforms consultations and begin drafting the legislative instructions that would then follow up with parliamentary process in place to amend the bills. 
Mr Bosoboe said the provincial and Honiara City Council election have to be moved if the simultaneous or synchronized elections is to be carried out by the electoral commission.  
He added his office has been assured that elections are one of the government's priorities, submissions have already been made to the government and the office is now waiting on the consultation process that will follow.   
The government last month passed the Constitution (Amendment) Bill 2022 which deferred the national general election.  
The government during the bill's debate stated it did not have the resources to host the Pacific Games and hold an election in 2023.
It then seeks Parliament's approval to amend the constitution and defer the election to 2024.
ENDS///
By Sharon Nanau