"Welcome, You are one of us,"Malaita Provincial Govt told Prime Minister Sogavare
Prime Minister Hon Manasseh Sogavare and his official delegation including key responsible Ministers of the Democratic Coalition Government for Advancement (DCGA) has been received with honor and applause by the leaders and people of the Northern region of Malaita when he graced the shores of Malu'u marking the handing over of a fully funded SIG Wharf, a Fisheries Centre and a CEMA Buying Centre.
In his speech to welcome the Prime minister at Malu'u Station, Deputy Premier of Malaita Province and Member of Ward 8 where Malu'u Sub Station is situated, Hon Glen Waneta welcomed Prime minister Sogavare amidst thousands of people who gathered to witness the occasion. 
"I speak from my heart, even if you do not say anything today to the people gathered here to witness the occasion it is okay with us, as we are very happy with your leadership as Prime minister. Action Speaks Louder than Words," Hon Waneta said in reference to his great appreciation for the three delivered projects handed over today.
He warmly welcomed the Prime Minister on behalf of all the peace loving Malaitans and especially the people of the Northern region. 
"Welcome Prime Minister Sogavare, Prime Minister of Solomon Islands and Malaita Province. You are one of us, you are a son of Malaita," the Deputy Premier said.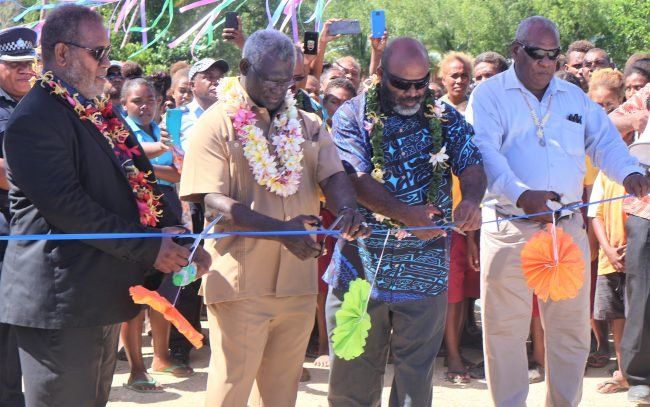 Prime Minister Manasseh Sogavare responded in his official speech by saying "this is an example of how much can be achieved if we work together for the advancement of our people. I will continue to drive home this point that we can only achieve such development projects if we work together. Working together is the only way forward, there is no other way. If we do not work together, our people will suffer. Let us not stand in the way of development and the future of our people. 
"Your attendance this morning demonstrates your continuous cooperation to the DCGA Government in fulfilling its national priority to strengthen and allow people in rural Solomon Islands communities to participate in socio economic development and maintain peace in the entire country," the Prime Minister 
Sogavare further stated to the thousands of people in attendance.
ENDS///
Prime Minister's Press Secretariat