WINWIN DECEIVE THE NATION: BILIKI HITS BACK
𝐖𝐢𝐧𝐰𝐢𝐧 𝐌𝐢𝐧𝐢𝐧𝐠 𝐈𝐧𝐯𝐞𝐬𝐭𝐦𝐞𝐧𝐭 𝐋𝐭𝐝 𝐝𝐞𝐟𝐞𝐧𝐬𝐢𝐯𝐞 𝐬𝐭𝐚𝐭𝐞𝐦𝐞𝐧𝐭𝐬 𝐚𝐫𝐞 𝐭𝐨𝐭𝐚𝐥 𝐥𝐢𝐚𝐫𝐬

𝐒𝐚𝐦𝐩𝐥𝐞𝐬 𝐰𝐞𝐫𝐞 𝐢𝐧𝐭𝐞𝐧𝐭𝐢𝐨𝐧𝐚𝐥𝐥𝐲 𝐬𝐰𝐚𝐩𝐩𝐞𝐝 𝐚𝐧𝐝 𝐩𝐚𝐢𝐧𝐭𝐞𝐝 𝐭𝐨 𝐛𝐞 𝐬𝐦𝐮𝐠𝐠𝐥𝐞𝐝 𝐨𝐮𝐭

𝐂𝐨𝐦𝐩𝐚𝐧𝐲 𝐩𝐫𝐨𝐝𝐮𝐜𝐞 𝐟𝐚𝐤𝐞 𝐫𝐞𝐩𝐨𝐫𝐭𝐬, 𝐡𝐮𝐠𝐞 𝐠𝐨𝐥𝐝 𝐞𝐱𝐩𝐨𝐫𝐭𝐬 𝐝𝐨𝐧𝐞 𝐮𝐧𝐝𝐞𝐫 𝐥𝐨𝐜𝐚𝐥 𝐥𝐢𝐜𝐞𝐧𝐜𝐞

𝐆𝐨𝐯𝐞𝐫𝐧𝐦𝐞𝐧𝐭 𝐫𝐞𝐦𝐚𝐢𝐧𝐬 𝐭𝐢𝐠𝐡𝐭𝐥𝐢𝐩𝐩𝐞𝐝
Whistleblower and former Mines Director Nicholas Biliki has hit back at Winwin Mining Ltd and local gold dealers which he alleged have "boldly provided false defensive information to the public about their gold smuggling and tax-evading activities."
Last week, Winwin Mining Investment Company local Director Charlie Meke, Office Manager Jeremy Rex and the local gold dealer Primo Keni denied any illegal gold dealing and smuggling activities as exposed by Biliki through a special investigation by SIBC News – published on September 10, 2021.
Mr Biliki alleged that Asian alluvial gold mining firm, Winwin Investment Mining Ltd was involved in a 1.7kg gold smuggling attempt and tax evasion of gold exports worth SBD35 million dollars.
However, the trio denied any illegal gold dealing activities that had occured. They told SIBC News that the gold packages intercepted were samples intended to be sent for testing.
But Mr Biliki this week said, to those who are familiar with this industry, their defensive statements are total liars and deceiving.
"Either they were worried about losing their jobs or they knew nothing much about the legislations that govern these issues, or they were just being used by the company to defend these illegal and criminal activities.
"I challenge the managing director himself to come out to the media and inform the public of what is happening but I very much doubt he would," he said.
Gold intentionally swapped
Mr Biliki said analyzing of samples locally or overseas is a non-issue for the Mines Division or Government.
"The issue here is that Winwin has intentionally swapped and painted the samples after repackaging at their Turarana Camp for shipment, which is a criminal offence.
"The weight of the original samples (said to be Stream Sediments) checked by the Mines Division Officer before the repackaging was 5kg, whereas the sample intercepted by Customs at Henderson terminal was 1.7kg of pure gold spray-painted," Biliki revealed.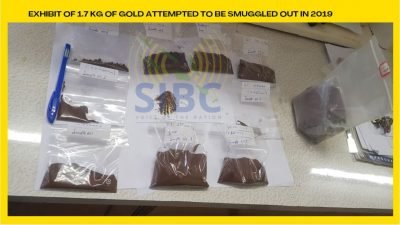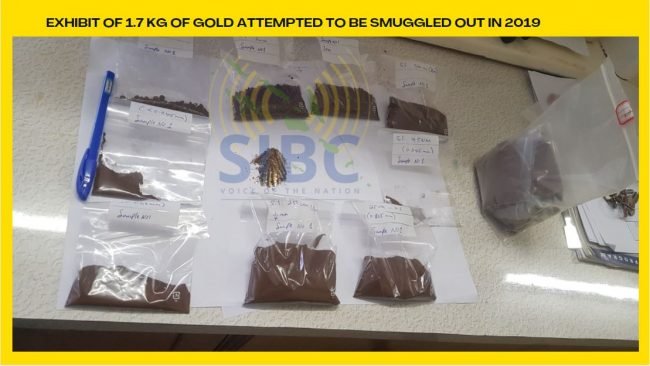 He said when he inspected the company's gold safe, almost a kilogram was missing.
"So how do they conceal their intention when the samples were spray painted or dyed? This is shameful. Right minded persons wouldn't dare defend such filthy actions.
"How do you explain the differences in the sample details stated in the sample dispatch form signed by the Mines Division from this sample confiscated by Customs," he pointed out.
According to the dispatch form sighted by SIBC News, type of sample include sediment, rocks and Iron pulp samples obtained from Turarana Tenement.
After Solomon Islands Customs withheld the 1.7kg pure gold, it released it back to Winwin after a year according to Winwin, following due process according to local director Charlie Meke.
He explained they are penalized, which was for only a SBD2000 fine for the gold smuggling attempt.
But Biliki described the gold smuggling incident with a small fine as disgraceful.
"This is a serious breach of the country's laws and to only settle it internally undermines our national laws".
Documents obtained by SIBC News revealed information from the company's gold safe at the Turarana mining camp, monthly gold production statistics, sample dispatch documents and laboratory analytical reports, and even information about a secret meeting held at the Sea King Restaurant before the sample was released by Customs.
Mines Division never consulted on release of sample
The Mines Division was never involved or consulted in any meetings or negotiations that resulted in the return of these smuggled samples, never, Mr Biliki said.
"It was never informed of the sample's return until a list of breaches was sent to Winwin to respond to.
To the Mines Division, this sample issue is a criminal offence committed by Winwin and Winwin must be punished for it according to the laws of Solomon Islands.
"My inquiry to the Comptroller of Customs by email when I was still the Director was never responded to," he said.
Biliki said before he retired, he instructed his officers to work on these two matters.
"So the Mines Division, under my leadership then, was never going to go for any resettlement but prosecution. I believe that is the correct procedure that Government authorities should take.
"Winwin must fully reveal what was going on during that Sea King Restaurant meeting with senior Government officials," he said.
He added, one of the senior government officers during his time as director informed him that he was present in a meeting with Win Win top officials held at the Sea King Restaurant with other Senior Government officials in which the decision to return the samples was made.
"This is sickening," said Biliki.
In a recent interview with SIBC News, Winwin Mining's local director Mr Meke said only Mr Primo Keni was involved in the gold dealers' licence but only for four months.
He said under the Mines and Minerals Act, only locals or people that reside in the gold tenement area can apply for the licence. Both Jeremy Rex and Primo Keni are from Turarana so they applied through due process and obtained that licence.
"We do it according to what the former director Mr Biliki instructed us to obtain the licence, that is why we totally deny any illegal gold buying involved," Mr Keni said.
Mr Rex admitted that during the time, Mr Keni carried out the exports through an agent within the company who was an Asian expatriate.
However, Mr Biliki said the facts against Winwin mining are so conclusive and definitive.
He said both Primo and Jeremy have valid Gold Dealer's License to export gold until the end of 2019. Since then the Mines Division has refused to process any renewal application by both of them until this matter is resolved.
"So any gold buying and exporting by these two gentlemen is illegal. However, it was rumoured that Winwin is still giving money to both Primo and Jeremy to distribute to agents from Turarana to Gold Ridge to buy gold. If this is true then Winwin is still carrying out this illegal activity to this present day," he claimed.
Mr Biliki refuted the trio's statement that only locals or people that reside in the gold tenement area can apply for the licence.
He said it is true only citizens are legally allowed to buy, sell and export gold under the Mines and Minerals Act.
"But any Solomon Islands citizen can obtain a gold dealers licence regardless of whether you are a landowner or not.
"Whereas agents must be citizens as well. Therefore Winwin employees buying and exporting gold using these two persons' licence are breaking the law.
SIBC News noted that expatriates who are buying and selling gold must be granted a Foreign Investment approval to engage in this gold dealing activity, if not their activity is illegal or criminal.
Under Winwin Mining Ltd terms and conditions, Winwin is not allowed to buy gold from the local panners because it is a reserved business activity.
"Local miners or panners who sold these gold to holders of gold dealers' licence must have a valid Alluvial Miners Permit," Biliki further explained.
He revealed that not all these persons selling their gold to Primo, Jeremy and Winwin have valid alluvial miners permits therefore both Primo, Jeremy and Winwin are buying illegally mined gold.
Biliki said some of the names of the miners appearing in the monthly return forms submitted by Primo and Jeremy are false.
"This therefore is another criminal offence.
"Perhaps the most important information about this illegal gold export is this: Most of the gold exported by the Winwin expatriate employees using GDL belonging to Primo and Jeremy is highly likely to originate from the Turarana mine itself rather than from the local panners," he said.
Biliki's Justification
Here is the justification Biliki had about how local licence holders were used to export Winwin's gold under their licence.
Average daily individual gold production by the Turarana local panners is 0.5g. For the local panners listed in the monthly report submitted by Primo to mine 78kg of gold over the four months (or even one year) period is totally impossible.
"No fools will believe this. Even the Turarana mine, when using excavators, front end loaders, dump trucks, bulldozers, a mechanized processing facility that utilizes trommels, dredgers, shaking tables, etc has only achieved approximately 1.4kg of gold per month.
"So where is the total 78kg of gold exported by Primo alone coming from? It has to come from somewhere. One can easily conclude that the 1.4kg monthly production is not the true production," he asserted.
He said this must be true since a monthly 1.4kg production will be uneconomical or unable to support a mining operation of this size.
"Winwin has been operating non-stop for almost two years under this production rate but without legally exporting any gold. It has to generate some income somewhere to fund its mining operation," he said.
Government tightlipped
Since SIBC News published in its Website and Facebook sites and broadcasted via its radio and TV platforms allegations surrounding this, the Government remained tightlipped on this issue.
Emails, phone calls as well as personal approaches remain futile, repeatedly saying "The issue has been settled".
The Ministry of Mines and Energy, and the Ministry of Finance Permanent Secretaries or directors could not attend the Government's 'Meet the Press' media conference yesterday, although they have been informed through the Prime Minister's Press Secretariat Office to answer our questions that were put forward.
When asked yesterday, Special Secretary to Prime Minister Albert Kabui said he is not in the position to talk about this matter.
Meanwhile, Leader of the Parliamentary Opposition Hon. Matthew Wale calls on the Permanent Secretary of the Ministry of Finance and Treasury to explain his recent statement in relation to the allegation.
Finance Permanent Secretary, McKinnie Dentana earlier said the issue has been settled between the government and the miners, adding "that this is no longer an issue."
"How can this be so, when the allegations against Winwin point to potential breaches of various laws and possibly, the conditions of their FIB approval? The reported allegations are all criminal in nature giving rise to the need for proper criminal investigations and sanctioning by the Director of Public Prosecution (DPP).
"Was there an investigation conducted by the Police or the DPP before settlement was reached as stated by the PS?" Hon. Wale questioned.
The Opposition Leader said based on what is at hand, the statement flies in the face of documentary evidence pointing to premeditated criminal intent accompanied by calculated action taken to conceal the true nature of the package being pure gold and not sediments as declared by Winwin.
He said given it is coming from a government officer with no jurisdiction over criminal matters, the statement leaves too many loose ends.
"I therefore call on the Finance PS to disclose the terms of the said settlement. It is in the public's interest that all circumstances surrounding the said settlement with Winwin be explained.
"Recent history in the mineral sector has been marred with so many allegations of maladministration and corrupt practice and if the PS is sincere in his intentions, he must own up and explain how the reported settlement was reached and who sanctioned it," the Opposition Leader added.
Winwin lack of expertise
Biliki said Winwin does not have the required expertise and experience to run a mining operation of this scale, especially administratively and technically.
"From the beginning, Winwin's applications for prospecting and mining were produced by officers of the Mines Division.
"This is the true fact. This includes quarterly reports and commercial discovery report compilation and submission, access agreements drafting, etc.
"As of today this company is poorly organized and managed, also Winwin has since yet to recruit an environment officer to manage the environment impact of this project and manage its Environment Management Plan," he said.
The former Mines director said the controversial mining firm has yet to recruit an officer to manage any community relations tasks, especially in implementing its Community Development Agreement (CDA) signed with the landowners.
"It has yet to recruit an officer to be responsible for Occupational Health and Safety (OHS), and so on. This is the third year of operation but such important personnel are yet to be recruited, and I think they will never recruit."
He said this company is therefore bound to face such criticisms and problems.
"The true fact is that without complying with standard mining practice Winwin was somehow lucky to be granted this Mining Lease in late 2018. Therefore this is just the beginning of the rough rides ahead that Winwin will face," he asserted.
Winwin issues with Biliki
Responding to issues raised by Winwin local director Mr Meke against him, purportedly on money Biliki owed from Winwin, he (Biliki) said the company had been twisting the whole agreement.
"When I investigated these criminal and illegal activities, Winwin, in fear of having their mining licence terminated or suspended, twisted a verbal agreement that we have regarding the purchasing of my speed boat.
At that time, the Mines and Minerals Board, under my Chairmanship, had agreed to issue Winwin a show cause notice to have its licence suspended, so their only hope was to twist our boat purchase agreement and have me fired," Biliki alleged.
But he said unfortunately for Winwin, he has all the documents and boat purchase receipts, including pictures of the directors visiting the boat.
He adds, Winwin has completed the payment of his boat in January 2020 but would not collect it since they are twisting the whole agreement, that is fraudulently demanding money instead of boat payment.
"Few of these Winwin characters are well known to the public. They are very capable of framing and twisting such claims but unfortunately they will not succeed because I have all the facts. I am prepared to challenge them in court.
"My only advice to Winwin is that please carry out thorough due diligence checks when recruiting local personnel to your company," he said.
By Jared Koli