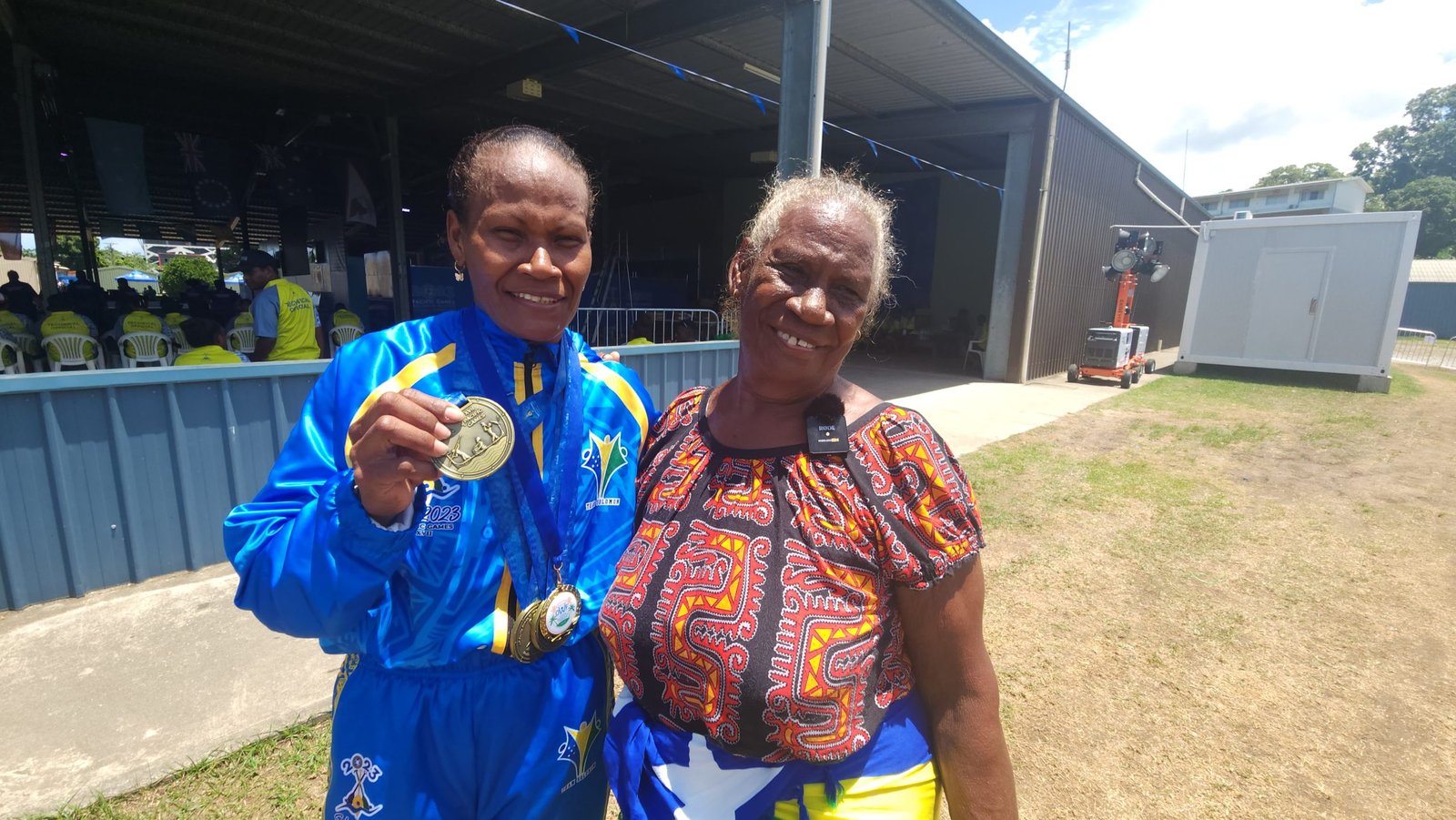 From Medals to Memories: Jenly's Mother Sees Her Daughter's Triumph for the first time on Home Soil
By Alfred E. Pagepitu
In a remarkable feat, 40-year-old weightlifter, Jenly Tegu Wini clinched her first three gold medals in the Women's 55KG category at the 2023 Pacific Games, bringing immense joy to her mother, Margret, and garnering pride from relatives, cousins, and the entire Solomon Islands.
Jenly's triumphant achievement unfolded as she lifted a total of 190 kg, with 82 kg in the snatch and 108 kg in the Clean and Jerk category.
Speaking to SIBC at the Maranatha Hall after her daughter secured the three gold medals for her home country, Margret shared her emotional journey and expressed her immense pride in her daughter's accomplishments.
"For years, we haven't seen her competing with our own eyes. We only hear and read it on the news that she has won medals. Today is different, I have seen it with my own eyes, just like everyone in the family who were here to witness this moment. Sitting and watching her while the rest cheered for her, this gives me pride, and I'm proud of my daughter," said Margret, with tears of joy.
Sponsored

Jenly's success does not only brought pride to her family but to the entire nation, for which her mother extended her gratitude.
In a post-interview with the Gold Medalist, Jenly said "I feel happy and excited because I am representing my country on my home soil."
She added, the overwhelming cheers from the crowd lifted her spirits, marking a notable change from past Pacific Games or other competitions she participated in.
"This makes me proud because my family and friends are here to witness me competing at the Pacific Games on home soil," Jenly stated, emphasizing that she approached the competition just as she did in past events.
"I am proud to win these three gold medals," she said.
The weights she competed with were part of her regular training routine, and her coach motivated her to lift despite the absence of significant opponents in her category.
"I achieved my Oceania record today, and I am excited as I aimed for gold," she expressed.
Jenly marked history as the first Solomon Islands athlete to snatch a gold medal at the 2023 Pacific Games at home turf.
Meanwhile, she is calling on all athletes to give their best in the remaining days of the competition,
Jenly urged them to focus, win more medals, and stay committed to their respective sports. She expressed gratitude to her coach for building her career and providing unwavering support. –ENDS//