Kuma says Win Win's Attempted Gold Smuggling and Tax Evasion has been settled
The issue of attempted gold smuggling and tax evasion by Win Win Investment Limited in 2019 has been settled administratively.
 Minister of Finance and Treasury Hon. Harry Kuma confirmed this during the asking and answering of questions in parliament this week.
Minister Kuma said the ministry has settled the matter administratively given the economic reasons presented by Covid-19 at the time. 
"Certainly Mr. Speaker carrying or smuggling of gold is a breach of our customs act but through the customs act as well it allows them to seek an administrative settlement which they did through advices that can be done purely based on economic reasons at that time, company has just started working and given the important contribution of the company to the nation especially during the challenging time of covid-19 pandemic we thought it would sorted out administratively," Mr Kuma said. 
Leader of Opposition Hon. Matthew Wale questioned the ministry on how it handled the issue given its seriousness and how it was sorted out administratively without any criminal liability against company officers after what is clearly an intentional attempt to defraud the government and people.
Mr Kuma in response said it is unfortunate that at that time it wasn't clear that the actions that took place were a clear breach of customs laws.
He added the company was penalized administratively. 
"The decision at that time since it can be dealt with administratively they were penalized administratively as for the pay of royalties and tax that was supposed to be paid were given back to them because at that time it was challenging time for them especially our exporters companies we see it is a relatively small consignment which we can give back and see the company is supported but not the act of smuggling but on the economic side so that the company keeps operating, the company has being warned sternly not to repeat the act again," Minister Kuma said. 
Former Director of the Ministry of Mines Energy and Rural Electrification Nicholas Biliki last year exposed the export document details showing in 2019, 1.7 kilograms worth SBD700, 000 of pure gold was attempted to be smuggled out from the country by a Win Win Mining officer. 
Solomon Islands Customs intercepted and confiscated the gold samples at the Henderson International Airport.
Mr Biliki said the gold samples were intentionally spray-painted to look like ground samples for test analyses abroad.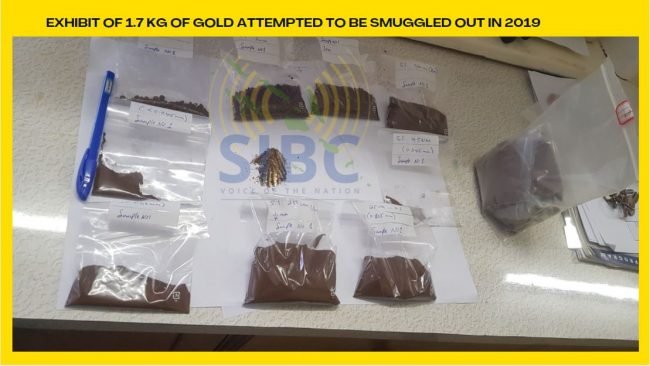 Win Win Mining Investment Limited is an Asian alluvial mining firm operating in Tururana, Central Guadalcanal in the Solomon Islands.
Win win Mining Investment Limited and a local gold dealer license holder who have been implicated in an attempted gold smuggling and tax evasion have adamantly denied any illegal gold dealing and gold smuggling has been exposed.
License Holder at that time Primo Keni totally denied any illegal dealing.
He said they export gold through the right formalities and process through the Ministry of Mines and the Customs and Excise Division.
Win Win Mining Investment's Local Director Charlie Meke said the samples were meant to be sent overseas for testing as there was no laboratory in the country to conduct testing at that time.
He said they only knew of a laboratory in the country when the samples were intercepted.
Meanwhile Member of Parliament for Small Malaita Hon. Rick Hou said it is sad that the ministry entertained such an act. 
He added if the company breaches the country's laws and the economic circumstances are reasons for the ministry to handle the issue administratively, it would be great if the same act can be done with other companies as well. 
Mr Kuma said given that the same customs act has been breached and also caters to see the matter being settled administratively, the act is currently under review.
By Sharon Nanau