Sir David Vunagi Knighted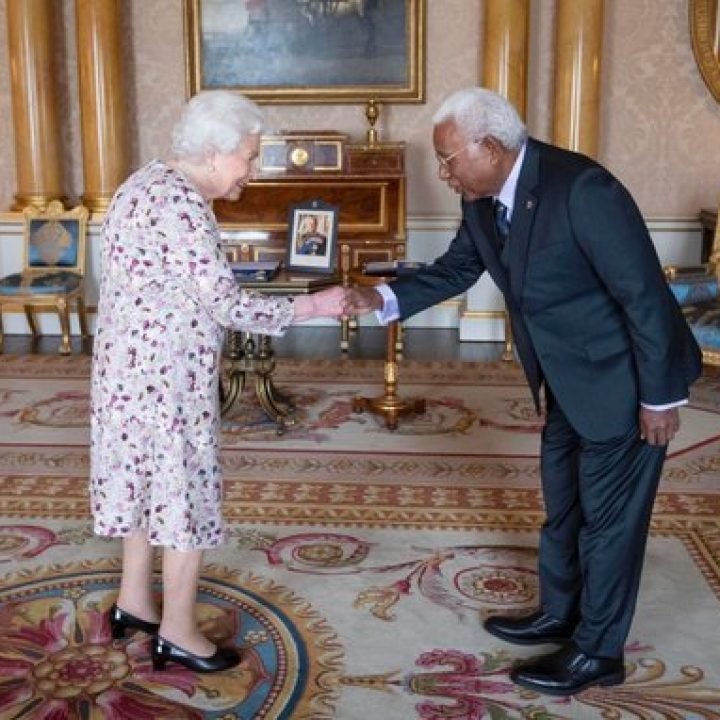 Solomon Islands 7th Governor General, His Excellency Sir David Vunagi has been knighted by Her Majesty Queen Elizabeth II with the Most Distinguished Order of Saint Michael and Saint George at Buckingham Palace in London yesterday.
The Knighthood was conferred upon Sir David on August 9 by Her Majesty following a recommendation by Prime Minister Manasseh Sogavare on July 15 this year.
Sir David was a retired former Anglican Archbishop, who was elected unopposed by members of Parliament in June 2019.
The Most Distinguished Order of Saint Michael and Saint George in the British order of knighthood was founded in 1818 by the Prince Regent, later King George IV, to commemorate the British protectorate over several protected territories around the world.
The Queen chooses the recipients of honours on the advice of the Prime Minister and other relevant ministers, to whom recommendations are made by their departments or members of the public.
Meanwhile, Sir David said, he is deeply humbled and honored to receive the knighthood from her Majesty as Governor General of Solomon Islands, adding, this honour comes with a huge responsibility to the people of Solomon Islands.
That responsibility is to ensure the Governor General remains as a symbol of Unity and hope to every Solomon Islanders, Sir David said after his investiture ceremony.
Although the office holds considerable reserve powers, it is largely a symbolic figurehead position with little day-to-day involvement in government.
Solomon Islands is a Commonwealth realm and, following independence in 1978, adopted a constitutional monarchy based on, but separate from, that of the United Kingdom.
The governor general's responsibilities include carrying out constitutional duties, serving as commander-in-chief, representing Solomon Islands at home and abroad, encouraging excellence and bringing Solomon Islanders together.
It is the governor general who summons Parliament, sets out the government' s program by reading the Speech from the Throne, and gives Royal Assent which makes Acts of Parliament law.
The governor general signs official documents and meets regularly with the Prime Minister, Ministers and Government Officials.
The Government Communication Unit reports, Sir David and his delegation leaves London for Tokyo this Saturday 19th October.