TROPICAL CYCLONE WARNING #4 issued at 1:30PM on 03 April 2020.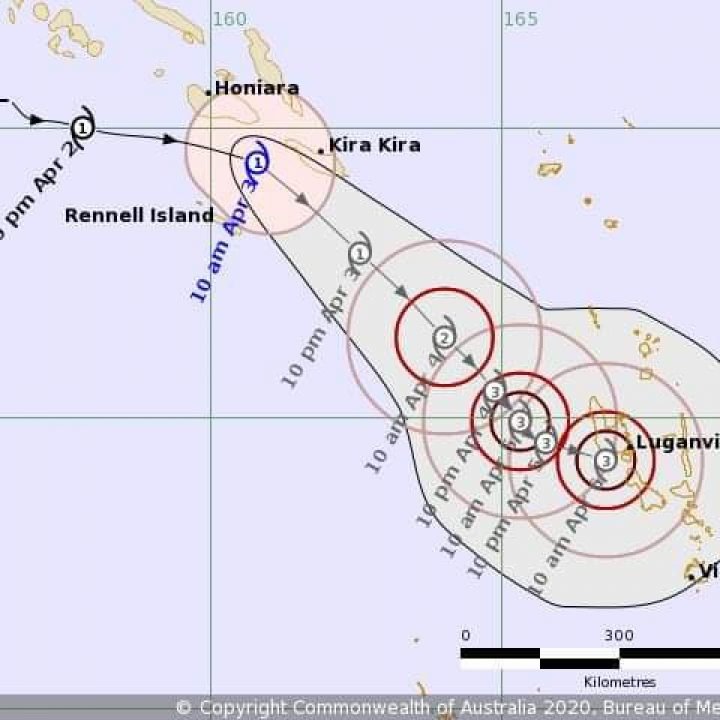 TROPICAL CYCLONE WARNING NUMBER FOUR ISSUED BY THE SOLOMON ISLANDS METEOROLOGICAL SERVICE AT 1:30 PM THIS AFTERNOON, FRIDAY 03RD APRIL 2020.

A TROPICAL CYCLONE WARNING IS CURRENT FOR ALL PROVINCES.

AT 11:00 AM THIS MORNING, TROPICAL CYCLONE HAROLD (CATEGORY ONE) WITH A CENTRAL PRESSURE OF 994 HECTOPASCALS WAS LOCATED NEAR 10.6 DEGREES LATITUDE SOUTH AND 160.8 DEGREES LONGITUDE EAST. THIS IS LOCATED APPROXIMATELY 36 NAUTICAL MILES (67 KILOMETRES) SOUTHWEST OF ANUTA ISLAND, MAKIRA PROVINCE.
CYCLONE HAROLD IS MOVING EAST-SOUTHEAST AT 15 KNOTS (28 KILOMETRES PER HOUR) TOWARDS THE WATERS BETWEEN RENNEL & BELLONA AND MAKIRA PROVINCES AND STRENGTHENING.
GALE FORCE WINDS OF 34 TO 47 KNOTS (63-87 KILOMETRES PER HOUR) WITH MAXIMUM GUST OF 50-55 KNOTS ARE EXPECTED TO AFFECT GUADALCANAL, CENTRAL, MALAITA, MAKIRA AND RENNEL BELLONA PROVINCES WITH VERY ROUGH SEAS AND MODERATE TO HEAVY SWELLS (3.0 – 4.5 METRES).
EXPECT WINDS OF 25-33 KNOTS (46-61 KILOMETRES PER HOUR) OVER REMAINING WATERS AND LAND AREAS. MODERATE TO ROUGH SEAS WITH MODERATE SWELLS.
SUCH BAD WEATHER MAY LEAD TO LANDSLIDE, FLOODING AND COASTAL FLOODING OVER COMMUNITIES ALONG THE COAST, LIVING NEAR HILL SLOPES, CLOSE TO LARGE RIVERS, STREAMS AND LOW LYING AREAS.
SEA TRAVELERS ARE URGED TO CONSIDER SAFETY ACTIONS AS SUCH HEAVY RAIN AND STRONG WINDS CAN CAUSE ROUGH SEAS AND REDUCE VISIBILITY.
MOTORISTS ARE ALSO ADVISED TO USE EXTREME CAUTION WHEN TRAVELLING ON ROAD. DO NOT ATTEMPT TO CROSS RIVERS AND LARGE STREAMS OF UNKNOWN DEPTH.
PEOPLE SHOULD TAKE PRECAUTIONARY MEASURES AS SUCH BAD WEATHER HAVE THE POTENTIAL TO IMPACT LIVES AND PROPERTIES.
PLEASE LISTEN TO SIBC AND ALL MEDIA OUTLETS FOR FURTHER UPDATES.
THE NEXT CYCLONE WARNING WILL BE ISSUED AT 7:30 PM THIS EVENING.