Two new ministers sworn in to replace axed ministers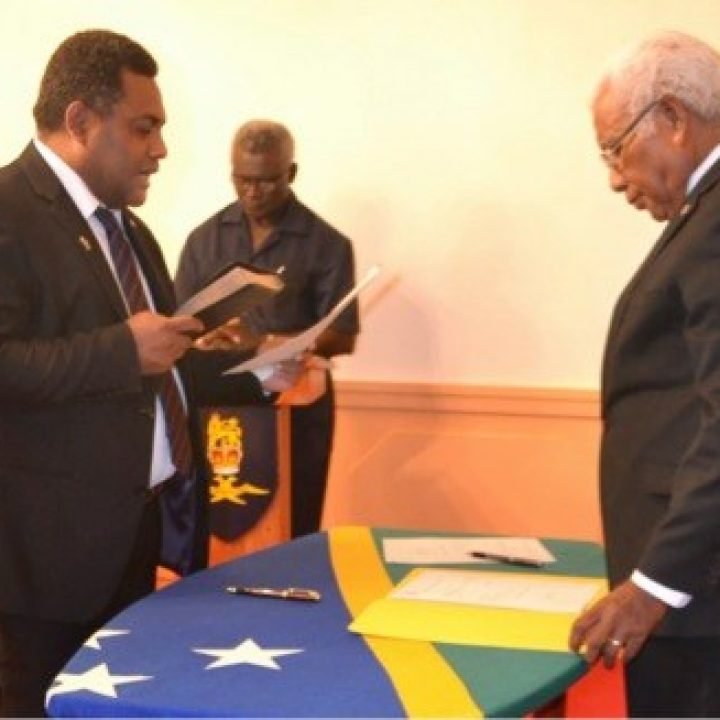 The Governor General, His Excellency, the Right Reverend David Vunagi has sworn-in two new Ministers late this afternoon in accordance with the Constitution, following the sacking this morning.
SIBC News understands, the two sacked ministers were the Former Minister of National Planning Rick Houenipwela , and his colleague MP Former Minister for Justice and legal Affairs, Dr. Tautai Angikimua.
MP for Baegu/Asifola Constituency, Makario Tagini and MP for Fataleka Constituency, Rex Ramofafia were immediately sworn-in at Government House to formalise their appointments.
Hon. Tagini was appointed the new Minister for the Ministry of Justice and Legal Affairs, effectively replacing former Minister Dr. Tautai Kaitu'u Angikimua while Hon. Ramofafia was appointed as the new Minister for the Ministry of National Planning and Development Coordination, replacing former Minister Rick Houenipwela.
The Prime Minister's Press Secretariat said, the appointment of new ministers and the revocation of the appointment of former ministers were based on advice from the Prime Minister according to the Constitution.
It said, reasons for the changes in ministerial portfolios will be announced in an Official Statement from the Prime Minister.
The Democratic Coalition Government for Advancement is committed to the delivery of ongoing and prospective policy priorities in the interest of national unity and stability,
lasting peace and economic advancement for Solomon Islands.
Meanwhile, Former Minister of National Planning Rick Houenipwela has confirmed his termination.
Honourable Hou said in a media conference late this afternoon, his sacking was expected as he was very vocal in Cabinet and Caucus over what he describes as a premeditated decision to switch ties to China, coated with fake formalities.
Mr. Hou says, MPs voted for the switch were under threat and against their conscience.
"But the way the resolution and the meetings were structured, it was such that you were not going to consider any option. That's what the Prime Minister said. Well, everybody was so concerned because they are going to vote against their conscience. And at that time, where people were asked to vote, the whole place was very, very tense, especially the Prime Minister, you know! Everybody were under threat!"
The Small Malaita MP will decide in the next few days with his Democratic Alliance Party members on what-next from here.
Dr. Tautai Angikimua was also relieved from his duties as Minister for Justice and legal Affairs.