Wale disappointed with Asilaua's comments
Leader of Opposition and MP for Aoke Langalanga, Matthew Wale says Elijah Asilaua's comments in SIBC's recent interview is insinuating Opposition's involvement in the current Malaita provincial government political stand-off.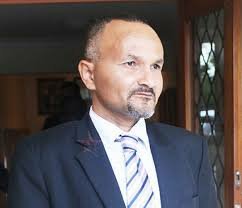 "I am deeply disappointed with the comments made by Hon. Elijah Asilaua insinuating opposition interference in the current leadership struggle within the MARA government," a statement from the Opposition said.
He said the opposition group and the Malaita members of parliament in the group, in particular have always responded positively to requests and invitations by the Malaita Executive, the Premier and Deputy Premier of Malaita Province to dialogue with them.
"These engagement and dialogue between the Malaita MPs and the MARA government and Malaita Provincial Assembly Members have always been respectful, cordial and fruitful.
"Discussions have always been centered on leadership, integrity and good governance, based on principles and values that are shared by the vast majority of Malaitans and Solomon Islands as a whole," Mr Wale said.
The Leader of Opposition said the shared values and principles of a Christian democratic nation have been at the heart of their continuous dialogue with the MARA government, both the Executive and non-Executive MPAs.
"As national leaders, the opposition will continue to engage with leaders and peoples in all segments of our society, including Members of the Provincial Assemblies. Such engagement is not interference, it is sharing of ideas and vision for a better tomorrow for our peoples and our nation.
"We will not turn down any serious invitations by the peoples of this nation to constructively engage and interact with them on issues that concern them," the Opposition Leader said.
However, he adds, if there is any political interference in the current Malaita provincial government leadership saga, it is not from the opposition group.
"It is clear that the DCGA and the other likeminded actors are the ones whose interests have been and will be impacted by any outcomes of the current Malaita province leadership saga, and Hon. Asilaua himself already knows this," Wale said.
The Leader of Opposition adds, from the failed motion of confidence on Premier Suidani last year, to the recent Fiu Bridge issue, and to the Premier's medical visit to Taiwan, it is no secret who is currently interfering in the leadership of Malaita Province and who stands to benefit from any change in leadership.
Wale cautions the national government and others to 'stop interfering in Malaita provincial politics, including possibly enticing members of the Malaita Provincial Assembly against the will of their peoples.
He said it is clear to the opposition group that the majority of Malaita people strongly support the MARA government under its current leadership.