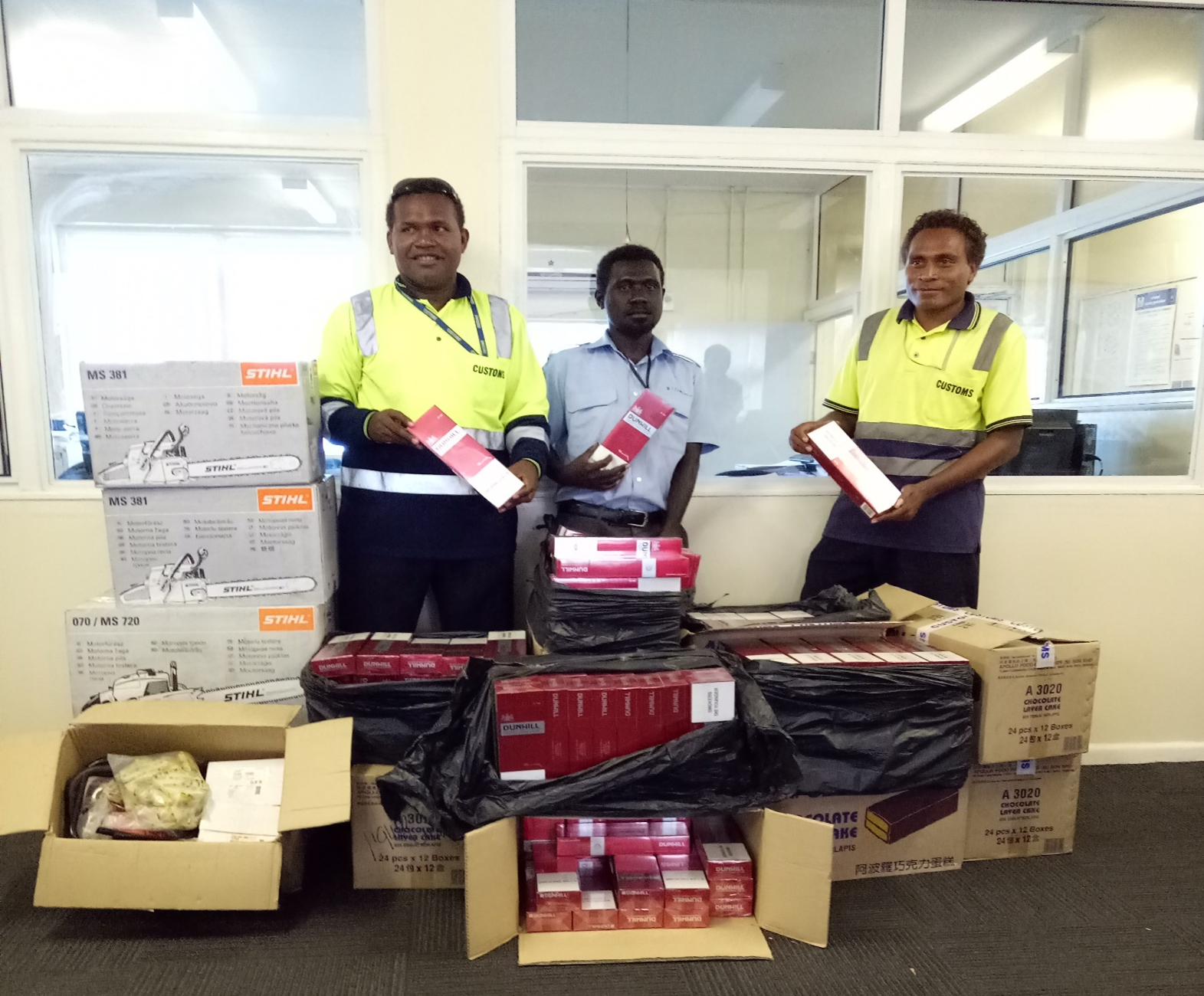 CUSTOMS CONFISCATE SMUGGLED GOODS
Solomon Island Customs & Excise Division (SICED) has successfully stopped an attempt to smuggle 228 sleeves of cigarettes (45,600 rolls) and four new Stihl chainsaws last Thursday 23 February afternoon.
Due to SICED risk assessment, a 20' container of mixed goods consigned to SOON ENTERPRISE, a logging company, was targeted and then subject to a 100 percent check.
As a result of the search, Customs Officers discovered 228 sleeves of Dunhill Cigarettes concealed in boxes professionally labelled as chocolate cakes. Two representatives from the company were present during the examination. The shipment was from Malaysia.
The Government Communication Unit reports, examining Customs Officers who toiled for four hours in the hot sun were delighted with the results. The examination of these types of goods is very difficult but the dedication of Officers to find these illegal goods is what motivates them each day.
The Comptroller of Customs says targeting illegal tobacco is one of Customs Border operational priorities. Customs is determined to stop this illegal trade of tobacco in the Solomon Islands. Not only are these importers evading government taxes, they also bring harm to the community by the availability of cheap tobacco.
The Customs Investigations unit has taken over the case and will determine what the outcome will be after interviewing the importers.
The Customs Act has wide powers and it is more than likely the importer will be required to pay all taxes including penalty, and forfeit the goods.
The Comptroller further advised that Customs has recently had success with the interception of counterfeit chainsaws that were made to look like genuine Stihl product.
 As Stihl have a registered trade mark here in the Solomon's, Customs were able to seize 10 chainsaws that were destined for the local market.
It is important that the rights of the registered trade mark holder are protected.
Similarly it is also important that inferior products are not sold to the general public as there are no protection in place when these products break down.